Ambassador Ships To Get Starlink High-Speed Internet
Celestyal Cruises Acquires AIDAaura
I Was Working On Cruise Ships. What I Feel Years Later Is Profound Gratitude
USCG Searches for Crew Member Overboard MSC Seascape
Silversea Crew Members Report Payroll Issues with Northlane Salary at Sea
Scarlet Lady Itinerary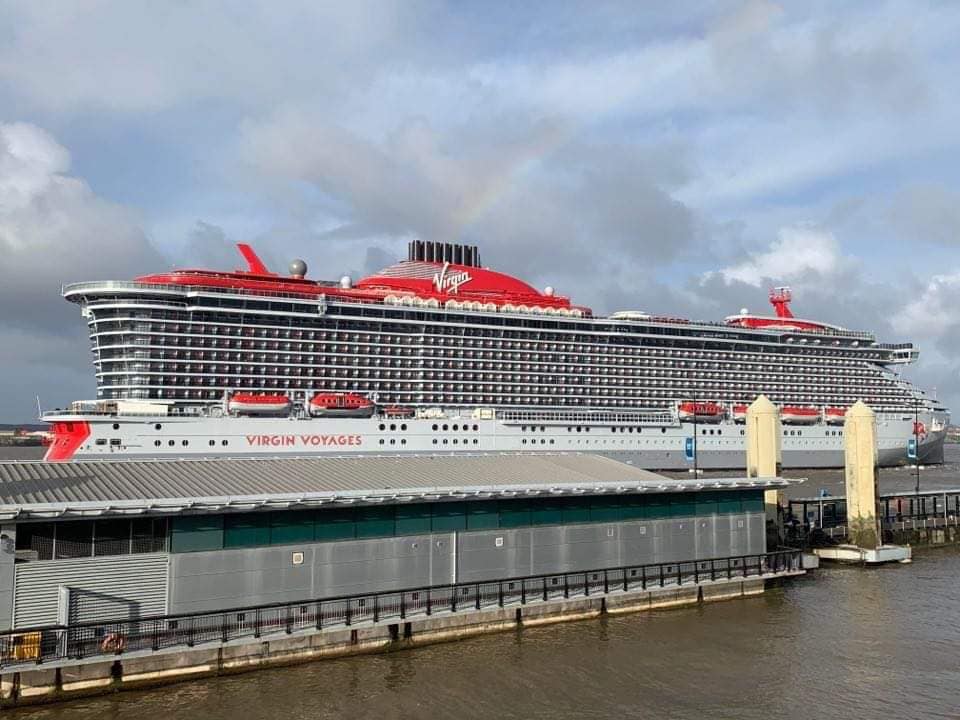 Virgin Voyages 2023 itineraries of the cruise ship Scarlet Lady with homeports and ports-of-call including dates and times. Find out where the ship is sailing and future vessel deployment at the exact date with arrival and departure times. The following monthly cruise ship calendar is updated frequently using the latest official itineraries released by Virgin Voyages. You can also download a full year-round itinerary of the ship at the end of this page in a pdf format. This file is intended for the cruise ship crew, and their families back home to keep track of the ship's itinerary. Please note that the pdf file is uploaded at the beginning of the year and there are no updates set for this cruise timetable format.
Scarlet Lady Itinerary 2023
Need more data?
Take a look inside the crew areas onboard Scarlet Lady
Scarlet Lady Deck Plans
Download link PDF File of Scarlet Lady Deck Plans is available at the end of this page.
Scarlet Lady Venues located at Deck 5
- Redemption Spa
- Razzle Dazzle - Vegetarian-forward Restaurant with Meaty Cheats + Red Bar
- Guests Staterooms (starting from The Sea View Suite number 5218A to 5338A)
Starboard Side
- Sailor Services Help Desk
- Pink Agave - Upscale Mexican Restaurant + Mezcal Bar
- Guests Staterooms (starting from The Sea View Suite number 5162Z to 5338Z)
- The Insider and Solo Insider Staterooms (starting from cabin number 5230M to 5292M)
- Crew Areas (aft)
Scarlet Lady Venues located at Deck 6
- The Den Flex Event Space
- The Manor Kick-Ass Nightclub
- The Test Kitchen - Cooking Lab/Restaurant + Experimental Bar
- Crew Areas
- The Casino Gaming and Lounge
- Extra Virgin - Casual Elevated Italian Restaurant + Wine Bar
- The Wake Glamorous Steak & Seafood Restaurant + Martini Bar (located at the aft section on Deck 6)
Scarlet Lady Venues located at Deck 7
- The Manor - Kick-Ass Nightclub
- The Roundabout - Atrium
- The Pizza Place Casual Eatery Serving Pizza
- The Dock - Mezze-Style Outdoor Eatery + Bar & Social Lounge (located in the aft, bask section of the ship)
- Guest staterooms and suites (starting from Sweet Aft Suite - Pretty Big Terrace number 8009A to XL Sea Terrace number 8370A). Including Ltd View Sea Terrace, Central Sea Terrace and The Sea Terrace suites.
- Guest staterooms and suites (starting from Cheeky Corner Suite – Pretty Big Terrace number 8011Z to XL Sea Terrace 8370Z). Including Ltd View Sea Terrace, Central Sea Terrace and The Sea Terrace suites.
- Solo Insider Storerooms (starting from cabin number 8184M to 8260M)
- Guest staterooms and suites (starting from Sweet Aft Suite – Pretty Big Terrace number 9009A to The Sea View Suite 9388A). Including XL Sea Terrace, Central Sea Terrace and The Sea Terrace suites.
- Guest staterooms and suites (starting from Cheeky Corner Suite – Pretty Big Terrace number 9011Z to Solo Sea View Suite number 9386Z). Including XL Sea Terrace, Central Sea Terrace and The Sea Terrace suites.
- Insider Storerooms (starting from cabin number 9180M to 9384M)
Guest staterooms and suites (starting from Sweet Aft Suite - Even Bigger Terrace number 10009A to The Sea View Suite 10376A). Including XL Sea Terrace, Central Sea Terrace and The Sea Terrace suites.
Guest staterooms and suites (starting from Cheeky Corner Suite - Even Bigger Terrace number 10011Z to Solo Sea View Suite number 10376Z). Including XL Sea Terrace, Central Sea Terrace and The Sea Terrace suites.
Solo Insider Storerooms (starting from cabin number 10186M to 10372M)
- Guest staterooms and suites (starting from Sweet Aft Suite - Even Bigger Terrace number 11009A to The Sea View Suite number 11368A). Including XL Sea Terrace, Central Sea Terrace, The Sea Terrace, and The Sea View suites.
- Guest staterooms and suites (starting from Cheeky Corner Suite - Even Bigger Terrace number 11011Z to Solo Sea View Suite number 11368Z). Including XL Sea Terrace, Central Sea Terrace, The Sea Terrace, and The Sea View suites.
- The Insider Storerooms (starting from cabin number 11232M to 11364M)
Guest staterooms and suites (starting from Sweet Aft Suite - Biggest Terrace number 12009A to The Sea View Suite number 12360A). Including XL Sea Terrace, Central Sea Terrace, The Sea Terrace, Seriously Suite and Solo Sea View suites.
- Guest staterooms and suites (starting from Cheeky Corner Suite - Biggest Terrace number 12011Z to The Sea View Suite number 12360Z). Including XL Sea Terrace, Central Sea Terrace, The Sea Terrace, Seriously Suite and Solo Sea View suites.
- The Insider and Solo Insider Staterooms (starting from cabin number 12186M to 12248M)
- Guest staterooms and suites (starting from Sweet Aft Suite - Biggest Terrace number 13009A to XL Sea Terrace number 13330A). Including Central Sea Terrace and The Sea Terrace suites.
- Guest staterooms and suites (starting from Cheeky Corner Suite - Biggest Terrace number 13011Z to XL Sea Terrace number 13330Z). Including Central Sea Terrace and The Sea Terrace suites.
- The Insider and Solo Insider Staterooms (starting from cabin number 13176M to 13268M)
- Guest staterooms and suites (starting from Sweet Aft Suite - Biggest Terrace number 14009A to XL Sea Terrace number 14334A). Including Cheeky Corner Suite - Biggest Terrace, Brilliant Suite, Central Sea Terrace and The Sea Terrace suites.
- Guest staterooms and suites (starting from Cheeky Corner Suite - Biggest Terrace number 14011Z to XL Sea Terrace number 14334Z). Including Cheeky Corner Suite - Biggest Terrace, Brilliant Suite, and Central Sea Terrace suites.
- The Insider and Solo Insider Staterooms (starting from cabin number 14042M to 14256M)
Scarlet Lady Venues located at Deck 15
- The Scene - Exclusive Event Space
- Aquatic Club Bar
- B-Complex Burn + Bike - Gym Bike Studio
- The Galley - Market-style Food Hall
- Gunbae - Lively Korean Barbeque Restaurant + Soju Bar
- Guests Suites starting from Gorgeous Suite number 15275A to Massive Suite number 15339A, Including one Fab Suite.
- The Tune Up - Mani-Pedi + Medi Spa
- Aquatic Club - Poolside Oasis
- Gym & Tonic Bar
- B-Complex Build + Balance - Gym
- Guests Suites starting from Gorgeous Suite number 15275Z to Massive Suite number 15339Z, Including one Fab Suite and two Posh Suites.
Scarlet Lady Venues located at Deck 16 (Sun and Sports deck)
- Richard's Rooftop - VIP Sundeck + Bar
- Sun Club Cafe - Outdoor Eatery
- Sun Club - Sun Worship Sanctuary
- Training Camp - Group Fitness
- Boxing Ring
- The Athletic Club - Adult Playground
- Sports Area
- The Cabanas - Private Hideaways (starboard side)
- The Athletic Club Bar ( aft section)
- The Net - Suspended Catamaran Net ( aft section)
Scarlet Lady Venues located at Deck 17
- The Runway - Jogging Track
- The Crow's Nest - Outdoor Yoga Studio
Recent posts
Ambassador Ships To Get Starlink High-Speed Intern...
I Was Working On Cruise Ships. What I Feel Years L...
USCG Searches for Crew Member Overboard MSC Seasca...
Ambassador Ships To Get Starlink Hi...
Scarlet Lady
Scarlet Lady Cruises 2022, 2023 - Ship, Itinerary, Dates, Prices | Atlas Cruises and Tours
Sail Scarlet Lady From $700 per person With a name inspired by an early Virgin Atlantic plane, Scarlet Lady is Virgin Voyages' premium take on what a luxury cruise ship means. Ushering in a new era for sea travel, she's designed to be different with a unique...
Scarlet Lady Quick Fact
Year Built:
Year Refurbished:
Year Entered Present Fleet:
Previous Name:
Country of Registry:
Tonnage (GRT):
Guests (Lowers):
Total Guests:
Passenger Decks:
Number of Crew:
Officers' Nationality:
Cruise/Hotel Staff Nationality:
Multinational
Total Rooms (all categories):
Ocean/River View:
Accessible:
Scarlet Lady Salling Calendar
Scarlet Lady Destinations
$ 700 Prices From
$ 1,251 Prices From
$ 2,288 Prices From
$ 875 Prices From
$ 980 Prices From
About Virgin Voyages
Virgin Voyages Cruises is a global lifestyle travel brand committed to creating the world's most irresistible holiday at sea. With its inaugural season scheduled for 2023 and itineraries planned through 2024, Voyages' first ship, the Scarlet Lady, was designed to reflect a mega-yacht's sleek luxury that is Adult-by-Design and a sanctuary at sea for the 18+ traveler.
Taking a new attitude towards luxury, which the company refers to as Rebellious Luxe, in Voyages will offer incredible value with all eateries, group fitness classes and soft drinks included within the Voyage fare. The Scarlet Lady cruise ship will have 20+ venues all included in the price. Choices will include The Wake steak and seafood, Pink Agave upscale Mexican cruisine, Razzle Dazzled vegetarian cuisine, Gunbae liverly Korean BBQ, an ice cream ship, coffee bar and the Drought Haus just to name a few.
Virgin Voyages Cruises will have 4 ships in total, with the Scarlet Lady being their first. The 2nd ship came out in 2021, and the 3rd ship in 2022. Their big theme is music. Each ship will feature a record store, live DJ's, karaoke and each suite will have a record player. No kids, no buffets and no limits. The ship offers 1,408 cabins with 93 percent having ocean views, and 86 percent with balconies. All standard cabins will have a 43 inch 4K HDTV, mini bar, desk and rain shower heads. Balcony cabins and above will offer handcrafted hammocks. There are a selection 78 "RockStar" suites varying in size and location. Each will include terrace hammocks, full bars and cocktail kits with the first round on the house as well as include priority boarding, early access to onboard entertainment, restaurants and excursions and even private transfers to from the ship in Miami for up to a 50 mile radius.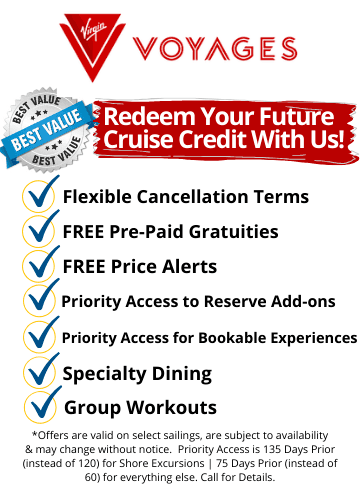 Search 62 Cruises
Why book with us.
No Atlas Booking Fees
Free Expert Travel Advise
Best Travel Value
Have a group already?
Did you know that groups can earn exclusive offers, discounts & even free travel?
Contact us today for more details.
Get A Group Quote
Group travel made easy.
Did you know that by traveling in a group you could earn free travel & incentives? Escorted tours and group cruises are ideal options for travelers. Make vacation memories that last a lifetime by traveling with family, friends, colleagues or associates. As a group leader you could earn FREE travel, or divided the savings among the group. On an escorted tour, you begin to earn benefits when you travel with 8 or more guests. On a cruise, you start to earn money with 8 or more double occupancy cabins.
What We Can do for you:
Personal Assistance from our Group Sales Team
Reserved Space on your preferred departure
Custom created itineraries
Event Management
Exclusive Group Pricing
Personalized Website for reservations
Meeting space
Easy Payment Plans
Access to exclusive group offers
Private tours or shore excursions
Ready to get started? It's simple...
All we need now is for you to provide your contact information, answer a couple of questions and a Travel Consultant will be in touch to provide you a group vacation quote.
Your personal info is protected by our Privacy Policy .
Scarlet Lady
Ship overview.
Designed to make an epic change in the cruise industry Scarlet Lady is the inaugural ship of Virgin Voyages. Developing a new concept of cruising Sir Richard Branson main purpose was to move away from the traditional cruise brands in preference of providing a boutique hotel style experience and create an adult-only retreat. Unlike traditional cruise ships, Scarlet Lady doesn't have a main dining room, no set seating's, and no buffet. However, the ship doesn't short-change guests when it comes to food. There are over 20 dining venues with no set menus or enforced meal times. Passengers or the Sailors as they are called on board, will also have a choice of healthy snack at 6 am or a midnight feast, just ask the crew and they will cater to you. Some of the dining venues onboard are Razzle Dazzle Restaurant serving a selection of vegetarian and vegan fare dishes, upscale Mexican restaurant Pink Agave, Korean BBQ restaurant Geonbae, and Test Kitchen designed to encourage guests to think about food from a different perspective.  Of the ship's 1,408 staterooms 93% have ocean views and 86% balcony. There are different categories starting from Suites, XL Sea Terraces, Sea Terraces, Sea Views, Insiders, Social Insiders and the cabins for single travelers called Solo Insider.  The ship's exclusive outdoor lounge, named Dock is where you can find total peace and tranquillity, with just the gentle sound of the waves and the sun. 
Ship Specifications
City Portsmouth
Scarlet lady itineraries, 5 night riviera maya, 5 night dominican daze, 4 night fire & sunset soirees, 6 night scarlet new year, virgin voyages fleet.
Brilliant Lady
Resilient Lady
Valiant Lady
Scarlet Lady cruise ship review: What to expect on board Virgin Voyages' 1st ship
Scarlet Lady, Virgin Voyages ' original cruise ship, takes all your preconceived notions of a cruise ship and turns them on their head.
The ship does not have a buffet or a cavernous banquet-style dining room. Kids are not welcome, but the adults-only ship gives grownups plenty of opportunities to play in both childlike and mature ways. Cruise fares include all meals, soda, basic Wi-Fi and crew gratuities, but it's not a luxury product filled with opulent decor, sedate travelers and a stuffy vibe. Onboard entertainment will include sexual innuendos, F-bombs and queer themes.
Scarlet Lady is not for everyone. But if you, like me, are tired of (or turned off by) the same-old cruise ship formula, this ship might just offer the cruise vacation you didn't know you were looking for.
For cruise news, reviews and tips, sign up for TPG's cruise newsletter .
Overview of Scarlet Lady
The 110,000-ton ship features 1,330 cabins and 78 suites and can carry 2,770 passengers at maximum capacity. That's a lot smaller than the newest ships from lines like Royal Caribbean , Carnival Cruise Line and Norwegian Cruise Line . The balance works well; the ship does not feel oppressively crowded, but there are plenty of restaurants, bars and attractions on board to keep you entertained at sea.
Scarlet Lady defies categorization when it comes to pricing, as well. Its cruise fares are more inclusive than your typical mass-market ship, and therefore more expensive than other mainstream lines. But it doesn't have the same vibe as luxury cruise ships that tend to cater to a retired, wealthy clientele, who are less active and not into dance parties or cutting-edge entertainment.
The minimum age to sail Virgin is 18 years old, and the ship embraces its adults-only status . You won't find kids on board, yet you will find board games, an arcade, swings and unlimited pizza and ice cream.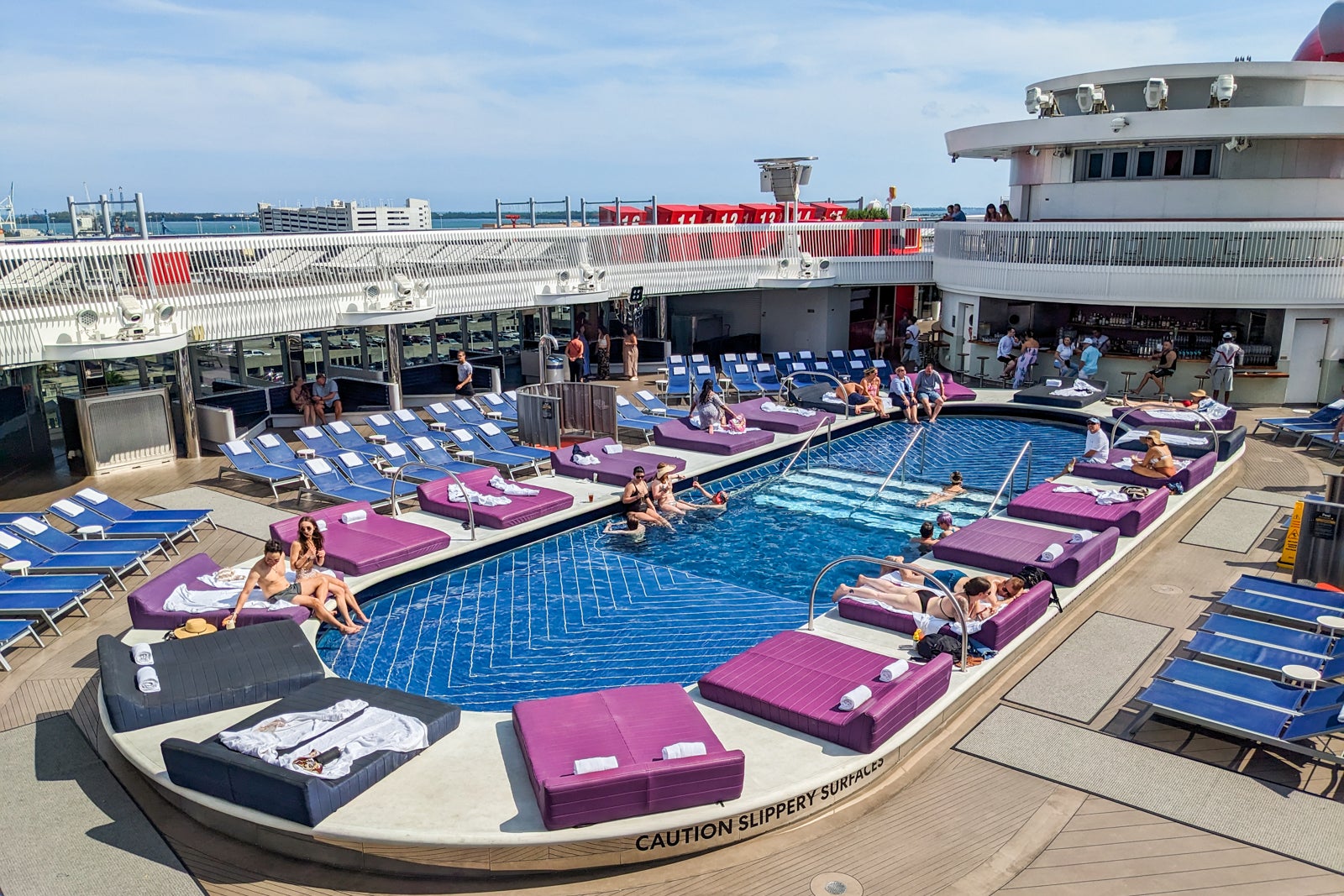 A common concern I've heard is that Scarlet Lady is only for the young and the hip. As a completely non-hip, mid-40-something, I can assure you that isn't true. The target demographic for this ship is more about mindset than age.
If you're someone who likes to go out – to dinner, a show, a bar or a party – this social ship will be for you. Many restaurants have communal tables designed to bring people together, such as Gunbae, where tables exclusively seat six and you're encouraged to join in a drinking game with your newly-met tablemates. The entertainment is top notch, but it's more experimental and modern than the traditional song-and-dance cruise ship shows. Scarlet Lady is not a "read in your cabin" type of cruise ship.
It's also a ship for travelers with open minds, who embrace differences and aren't easily shocked or insulted. Onboard comedians will push boundaries with their jokes. You'll find crew, from entertainers to waiters, who may be gender-fluid, tattooed, pierced or openly gay. While the sex-themed cabaret is gone, the shows do not shy away from sexual or R-rated themes.
I loved this about the ship. Others may not.
What I loved about Scarlet Lady
Hammock on the balcony.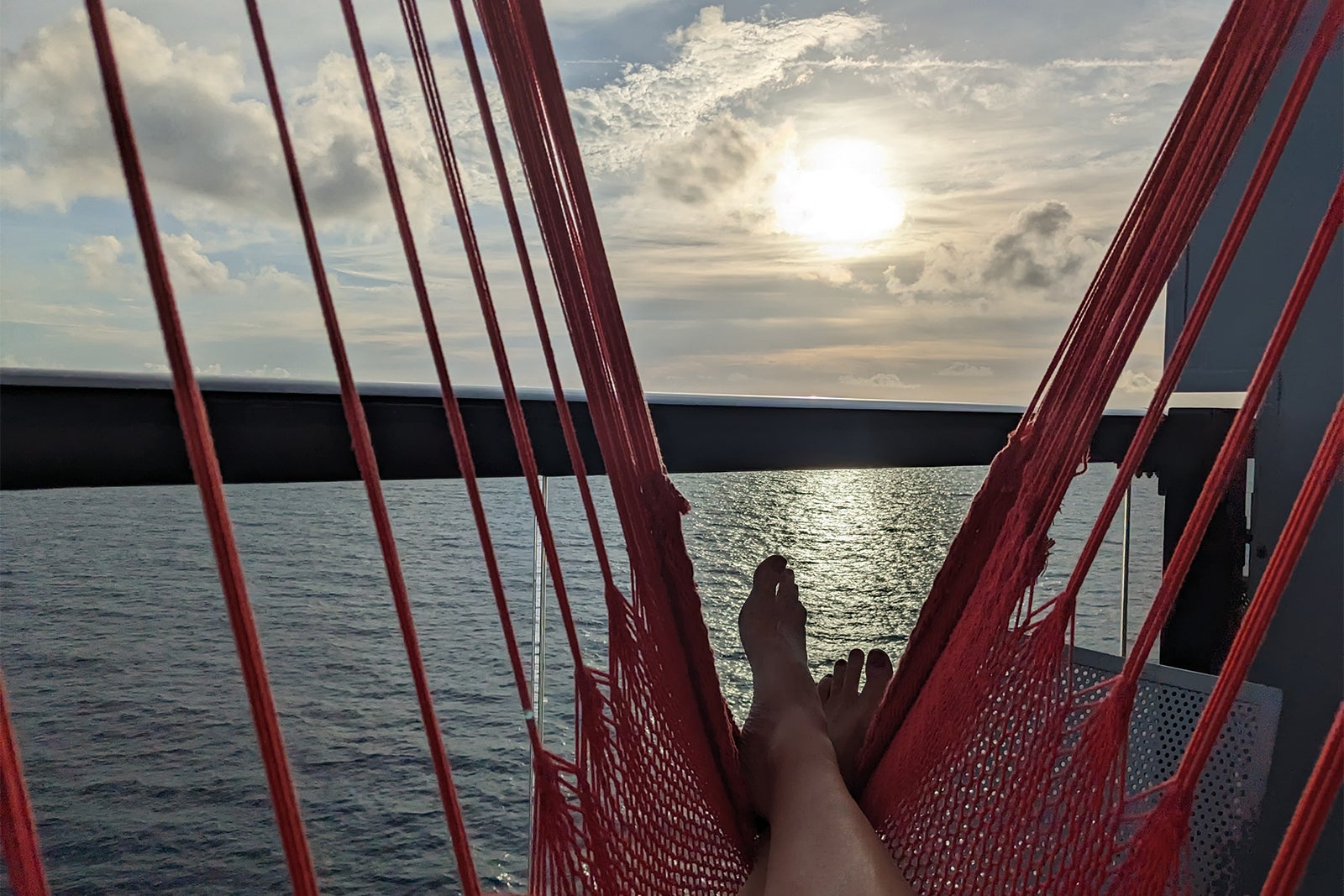 It might seem minor, but the hammock on my cabin's balcony made my cruise.
I often feel that balconies are wasted space. They're great for checking the weather, drying swimsuits and eating room service breakfast – but I rarely spend much time hanging out on them. Usually that's because the chairs are upright and made of metal (or metal and plastic mesh) and the veranda is small, and you can't get comfortable.
Not so with a hammock. I'm 6 feet tall and can fully recline in one of Scarlet Lady's bright red, ethically sourced hammocks. The rocking of the hammock combined with the rocking of the ship at sea, especially early in the morning when the sun was low and the temperature perfect, was incredibly soothing. I found myself plotting how to get more hammock time – rather than simply forgetting I had a balcony as I busied myself around the ship.
Scarlet Lady succeeds in creating intimate spaces onboard a big ship, and I loved all the inviting nooks I found on board. Sometimes, those nooks were tucked-away bars, like the Dock House Bar, just slightly off the main thoroughfare. Or, perhaps they were cute seating areas, like the curtained-off tables at the Sip bar or day beds on the open-air decks.
The public spaces on the ship invite you to grab a friend, a drink and chill for a while. I wished I had time to sample them all.
Entertainment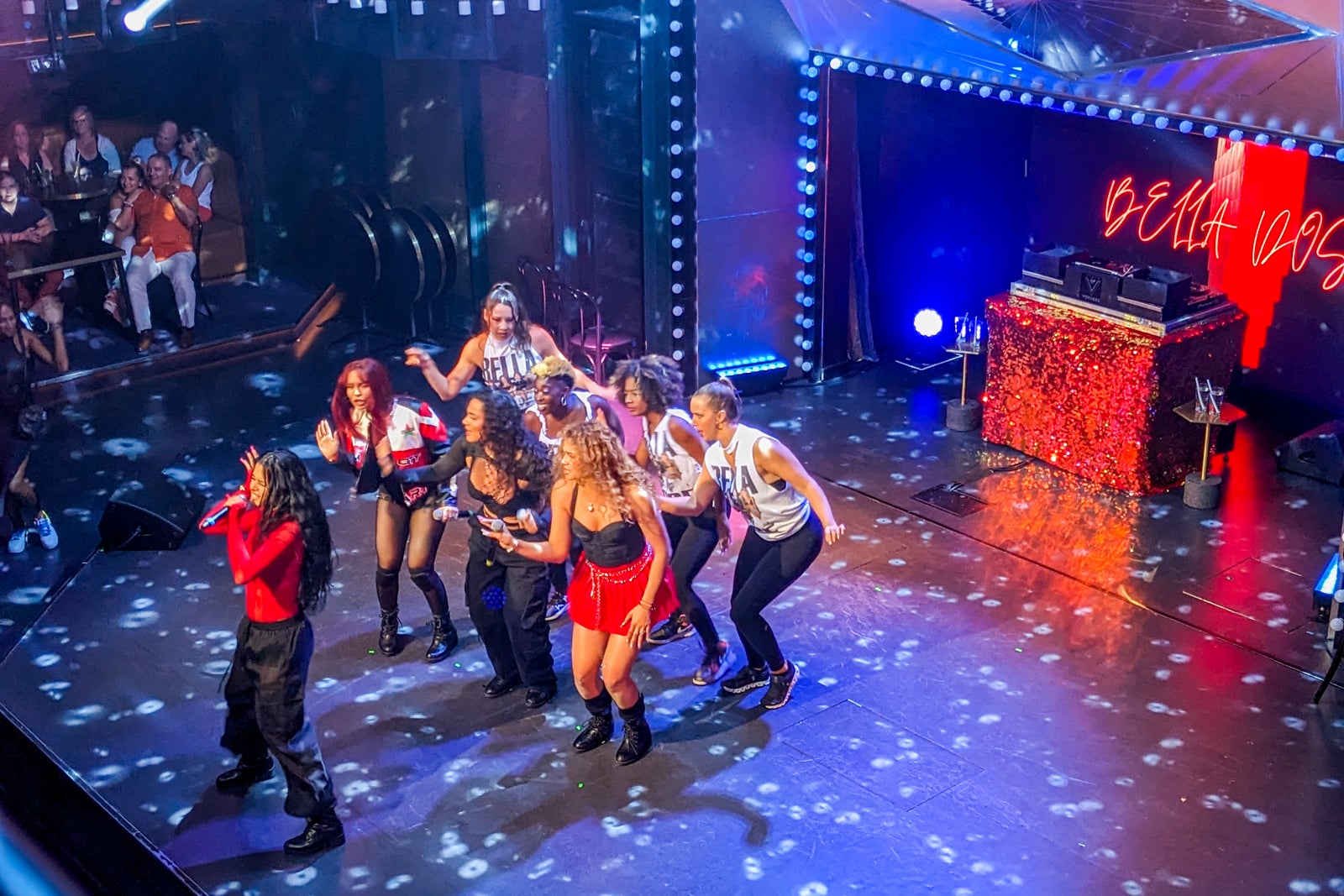 I'm a Broadway buff, and I always go to the cruise ship shows. Unless they're a real Broadway show (found on the likes of NCL or Royal Caribbean), I'm usually walking out or picking them apart before they end.
Scarlet Lady's entertainment impressed me with its innovation and its quality. The dancers were incredible; they moved about the stage like they were performing on "So You Think You Can Dance" (or other TV dance competition), not in your kid's high school dance recital. "Dual Reality," the Romeo-and-Juliet-themed show, was the first cruise-ship acrobatic performance I've seen that had a compelling plot; so many cruise lines throw dancers on hoops or silks in the air simply because they can. The way the staging and performer interaction engaged the audience was original and brilliant.
The drag show was a hoot, and the DanceShowPartyThing was different than any cruise ship show I've ever seen and a lighthearted fun time. The late-night jazz band at the On the Rocks bar kept the crowds engaged, and the crew knew how to keep the party going on the dance floor at The Manor – whether that was dancing on the stage wings or covering the crowd with a large parachute.
Related: Here's why Virgin Voyages' entertainment is now the best on any cruise
Restaurant concept
I'm not a cruiser who adores the main dining room. I prefer specialty restaurants with their individual menus, decor and vibe. But I also hate paying extra for meals when food is already included. In this way, Virgin's restaurant concept speaks perfectly to me.
Scarlet Lady has no main dining room and no buffet. Instead, you can make dinner reservations at one of its six restaurants, or make a more casual meal from the pizza parlor, food hall, snack bar (featuring wings and hot dogs) or the Dock and Dock House lounge with their mezze menu. I loved that every night I ate someplace different – one night filet mignon at the classy, upscale The Wake, the next experimental dishes at Test Kitchen or communal Korean BBQ at Gunbae.
Food ranged from edible to excellent, but meals were always fun. I felt like I was eating out in a city, rather than at a hotel conference center, and that night-out vibe set the mood for the entire evening.
What I didn't love about Scarlet Lady
Lack of direction.
Scarlet Lady is a ship for independent travelers who don't need their hands held or want to be told what to do by a cruise director (there isn't one). While I loved the lack of announcements over the intercom system or at the end of shows, I did feel like it was easy to miss out on things on board.
No one tells you how the ship works, even though it's nontraditional for the cruise industry. If you don't know to get on board and immediately make reservations for all the restaurants, shows and fitness classes you want, you will find yourself locked out of meals and events you were looking forward to.
The ship has a decided lack of signage; no deck maps or wayfinder screens by the elevator banks, not even the name of bars by their entrances. The layout of the ship is such that certain bars or venues are tucked away off the high-traffic corridors and can be difficult to find. If you do find them, they're usually in a dead end, leaving you to retrace your steps to figure out a way across a deck.
Perhaps if the app were more intuitive, some of these issues could be mitigated. But I, who have successfully employed numerous cruise ship apps, had to ask a crew member to show me where to find deck plans in the Sailor App. In-app room service ordering was glitchy, but my cabin attendant hadn't left me a printout of the menu, so I never tried in-room dining.
I can see first-time and older cruisers being especially confounded by the lack of guidance on board. While more announcements aren't the answer, I'm sure Virgin Voyages could figure out unobtrusive ways to give sailors a helping hand.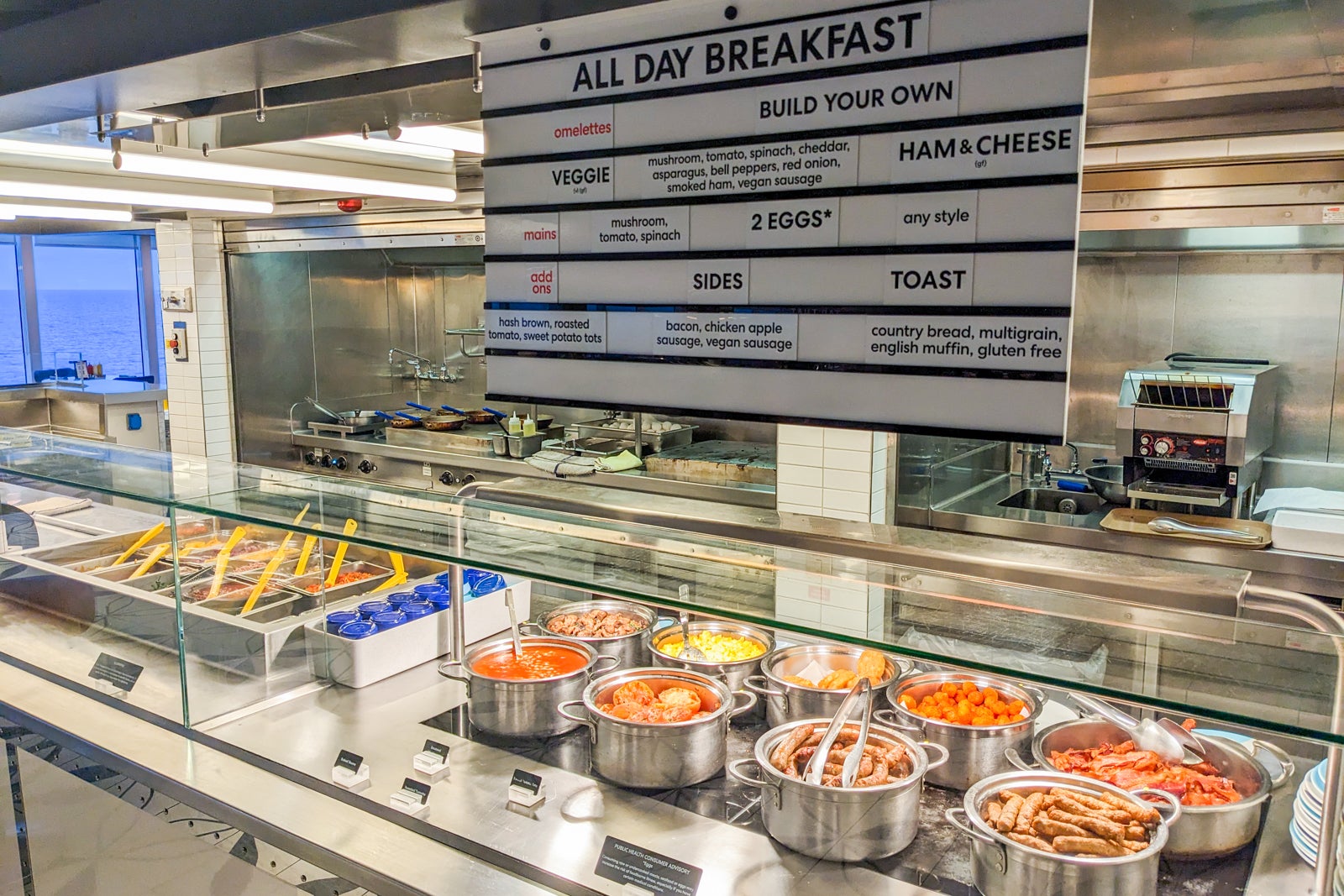 I am generally not a fan of cruise ship buffets, but a five-night cruise on Scarlet Lady gave me new appreciation for them .
Virgin Voyages is decidedly anti-self-serve. Neither its ships nor its private beach club on Bimini in the Bahamas offers a buffet. The buffet replacement on Scarlet Lady is The Galley, a food hall with several themed stations. Instead of ordering at the counter, you find a seat, flag down a waiter and put in your order, which will be brought to you when ready.
This concept works well when you have time to kill or the venue is empty. But when The Galley is packed, such as in the morning on a port day, it can take forever to catch the attention of a server and longer than you'd expect to receive your meal. You can find grab-and-go boxes in several locations on board, but the food selection is limited.
I had the same experience at The Dock after a late excursion; several of us waited far too long for a waiter to appear and take our order – even though a server had escorted me outside five minutes prior. As much as I'm not a fan of buffets, sometimes I just want to eat quickly and get on with my day.
Related: 11 things I loved on Virgin Voyages — and 6 I kind of hated
Scarlet Lady cabins and suites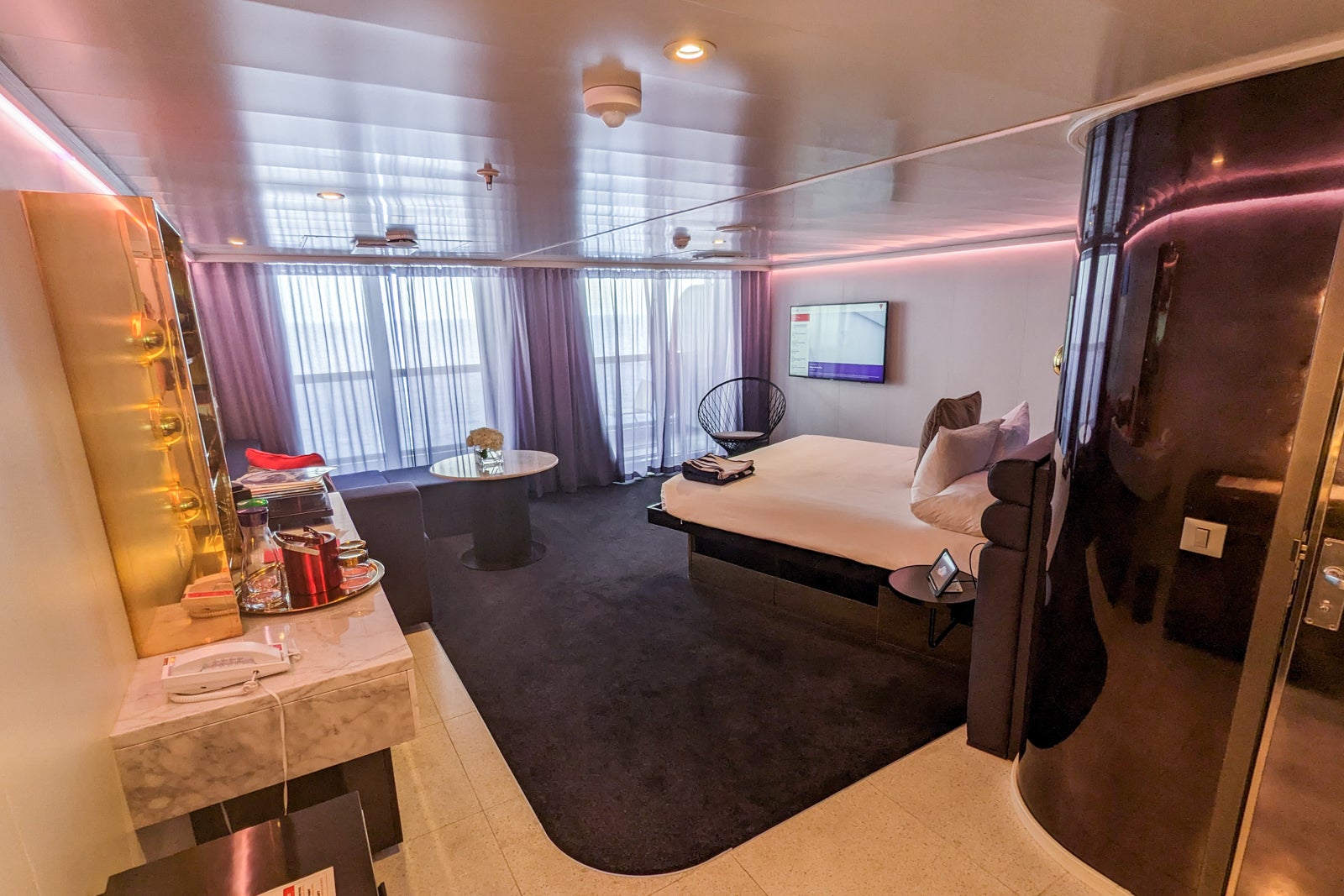 Scarlet Lady offers the usual cruise ship mix of windowless inside cabins, ocean-view rooms with large windows that don't open, cabins with private balconies and large suites. Cruise rooms sleep one to four guests, with twin beds that can be combined into queens and upper bunks. That's basically where the similarity ends.
My room was a Sea Terrace, a.k.a. a standard balcony room. The IKEA-inspired furnishings and mod décor made the room resemble a trendy micro hotel. For example, the bed is modular. On the cabin's long wall, there was a cloth headboard and a narrow white platform with one thick armrest.
Twin beds can be arrayed in various configurations along the platform. I had two pushed together into a queen with one-third of the platform as a bedside table, but a triple could have a third bed jutting out perpendicular from the other two. Or, if you plan on hosting an event in your cabin, or don't like reading on a bed, you can ask your room attendant to strip the sheets and arrange two daybed mattresses into an L-shaped sectional couch.
While practically no one uses the daybed layout, the arrangement means you're sleeping on a couch cushion rather than a plush mattress. My bed on Scarlet Lady was not the comfiest I've had on a cruise, but the sheets and duvet were fine and I slept well.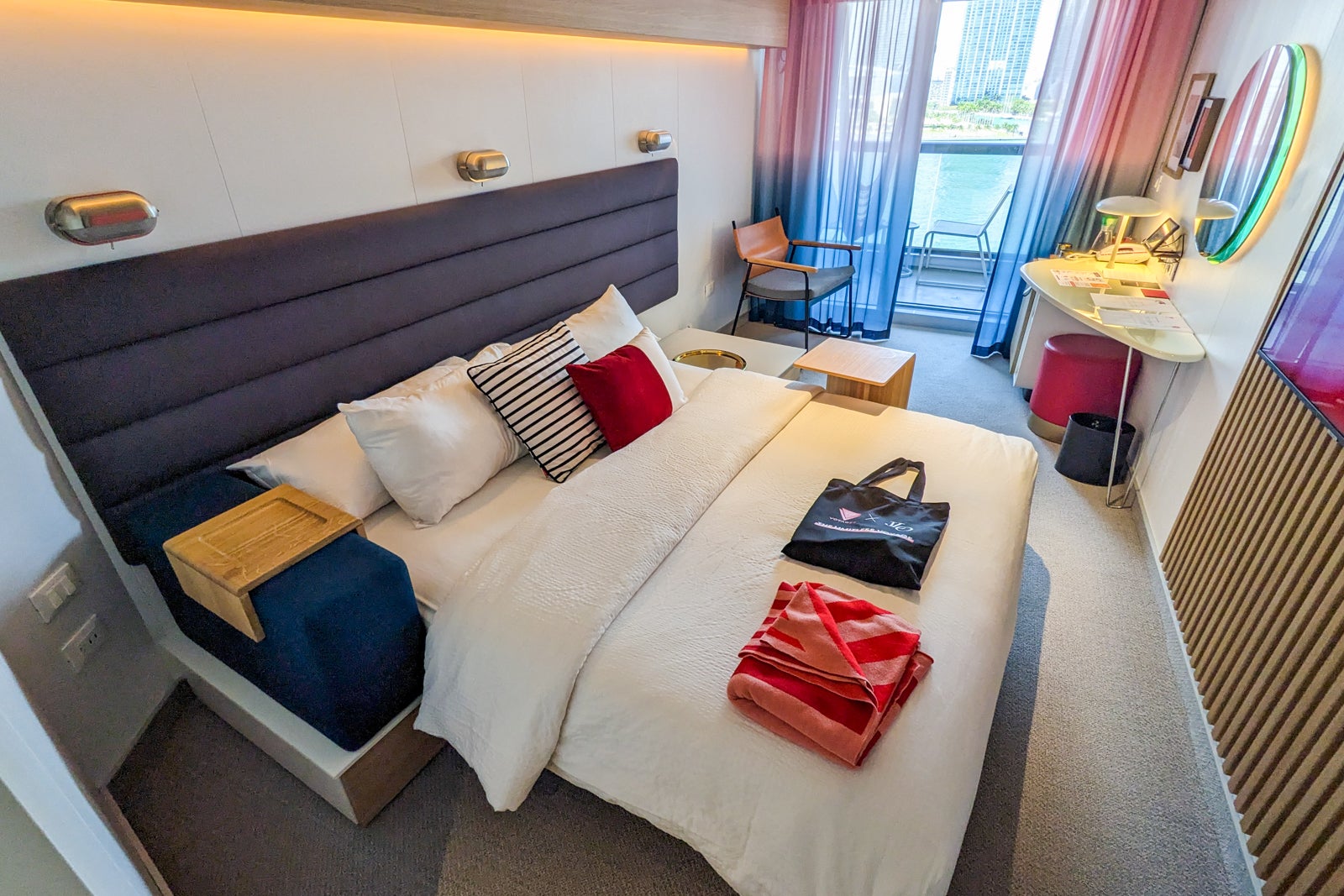 My room didn't have a sofa as other cruise ships might have. It had one upright chair in the corner and a vegan leather stool under the table that doubled as desk and vanity. The table is next to a unit housing the mini-fridge and two small shelves, but there is no additional storage. Here, you'll also find a touch-screen pad where you can adjust the lighting and temperature of your room.
The only storage is in the closet area, and as in a micro hotel, your clothes won't exactly be hanging behind closed doors. One tall cabinet with a door houses four not-that-deep drawers and shelves, many of which house the safe, life jackets and extra towels. But your clothes will hang from a rack behind a curtain that you likely won't bother to close. In one corner is a luggage stand with two shelves, each with a wicker basket.
The bathroom is tiny and also lacking in storage. You can use the one long shelf beneath the sink or place your items in the small space next to the sink – there are no other drawers or shelves. I kept placing my toilet bag under the elevated soap dish and realizing the soap would drip on it.
The shower has a rain head and a wand and one meager shelf. If you're happy with Red Flower toiletries, you can use the provided dispensers of shampoo, conditioner and body wash, and not have to worry about cramming all your travel-sized bottles onto the tiny surface area.
I didn't find my cabin on Scarlet Lady to be overly inviting or cozy, and I was glad I didn't have to fight for storage space with a travel partner. What saved the cabin was its balcony, or terrace as Virgin calls it.
The 45-square-foot terrace is furnished with two uninviting metal upright chairs and a round drinks table. I wouldn't even bother to sit out there – except for the striking red hammock hung from hooks bolted into the bottom of the balcony above. That hammock was everything. At 6 feet tall, I could stretch out completely and rock with the waves as the ship made its way through the Caribbean. Its presence made a forgettable, utilitarian room desirable and memorable.
If you really want to live it up, you can book RockStar Quarters or Mega RockStar Quarters, Virgin's two categories of suites. These extra-large rooms come with attractions like music rooms, turntables, peekaboo showers with windows to the sea, fully-stocked bars and large balconies. Perks include exclusive access to the Richard's Rooftop sun deck, access to a RockStar Agent (i.e. concierge), priority reservations for dining, onboard events and shore excursions and complimentary access to the spa's thermal suite.
Scarlet Lady restaurants and bars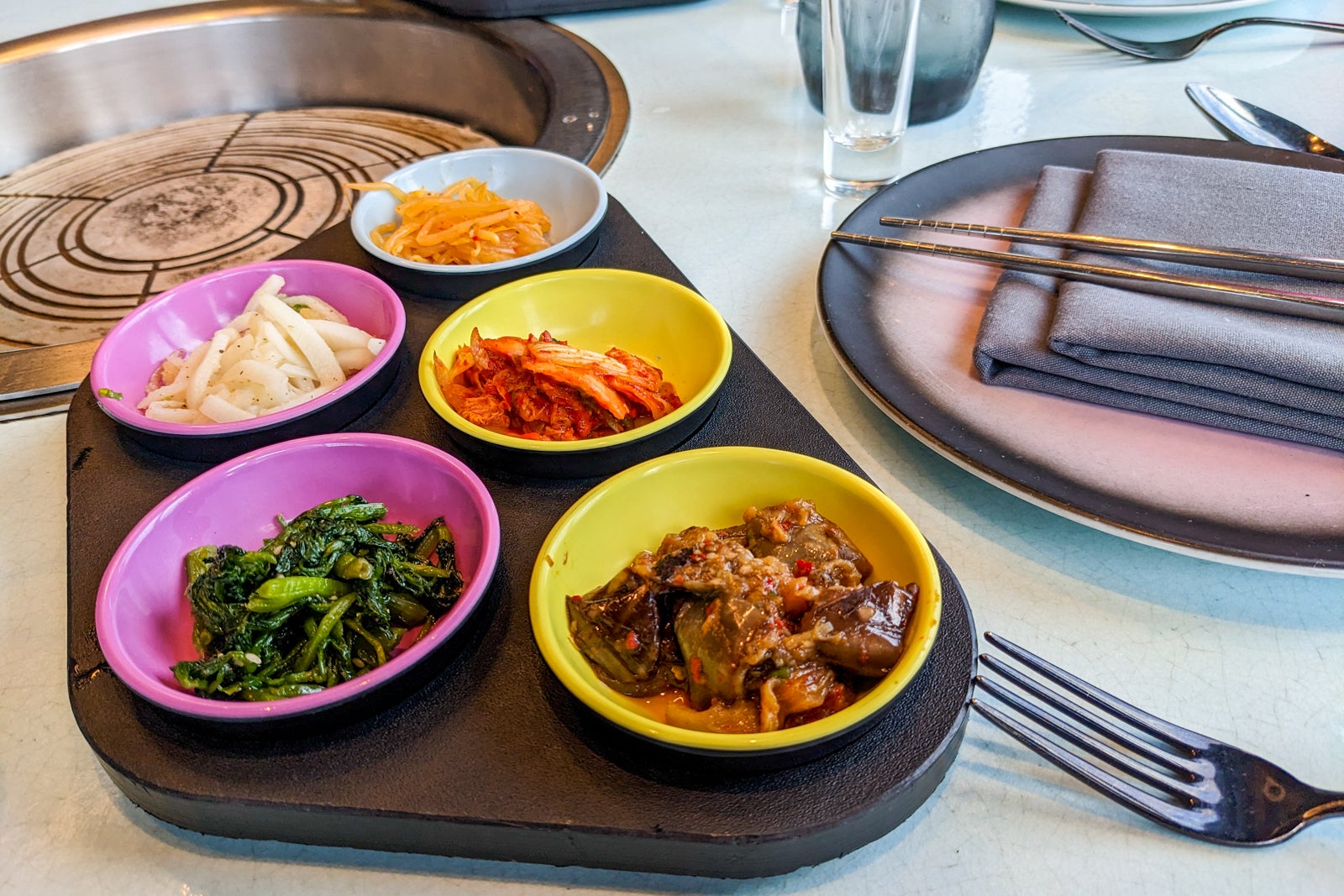 Scarlet Lady is peppered with restaurants and bars, and it's possible you won't be able to try them all in one sailing. Do your research in advance because some venues are easy to miss if you're not looking for them. Dining and drinking are highlights of your time on board, so you'll want to visit as many bars and restaurants as you can.
Restaurants
The ship takes an unconventional approach to cruise ship dining, with no main dining room, no buffet and no extra-fee restaurants. In this way, your onboard dining experience will feel like a land-based trip, but with fewer Yelp reviews to read. You'll likely eat in a new venue every night, most with an attached bar for pre-dinner drinks, and need to make reservations in advance or take your chance as a walk-in, either early or late. I loved both the food and the variety of options.
You'll want to make your dinner reservations as soon as you get on board. One thing that surprised me was the ship requests you also make reservations for breakfast, brunch or lunch at sit-down restaurants, such as The Wake and Razzle Dazzle. Walk-ins are welcome at less busy times (such as right when the venue opens for breakfast), but I was lightly scolded for not booking in advance. Plan accordingly.
The most highly sought after reservation on the ship is Gunbae, Scarlet Lady's Korean BBQ restaurant. Be prepared to make friends – all tables seat six, and your smaller party will be seated with strangers. That's OK because the communal dining and drinking games (you don't get the full experience if you don't play) aren't as much fun without a group.
Your server will bring the most popular of the appetizer, seafood, meat and dessert courses, though your table can turn down any option, ask for more of a favorite or request the alternatives (mostly vegetarian dishes). All the seafood (shrimp, octopus, etc.) is cooked together in the table's central grilling station, followed by the meat – without a thorough cleaning of the grill. If this bothers you due to allergies or dietary restrictions, make sure you inform the server.
Favorites at our table were the dakgangjeong (crispy chicken), octopus, kalbi marinated beef short ribs and macha tea - black sesame twist ice cream with mini marshmallows and black sesame granola.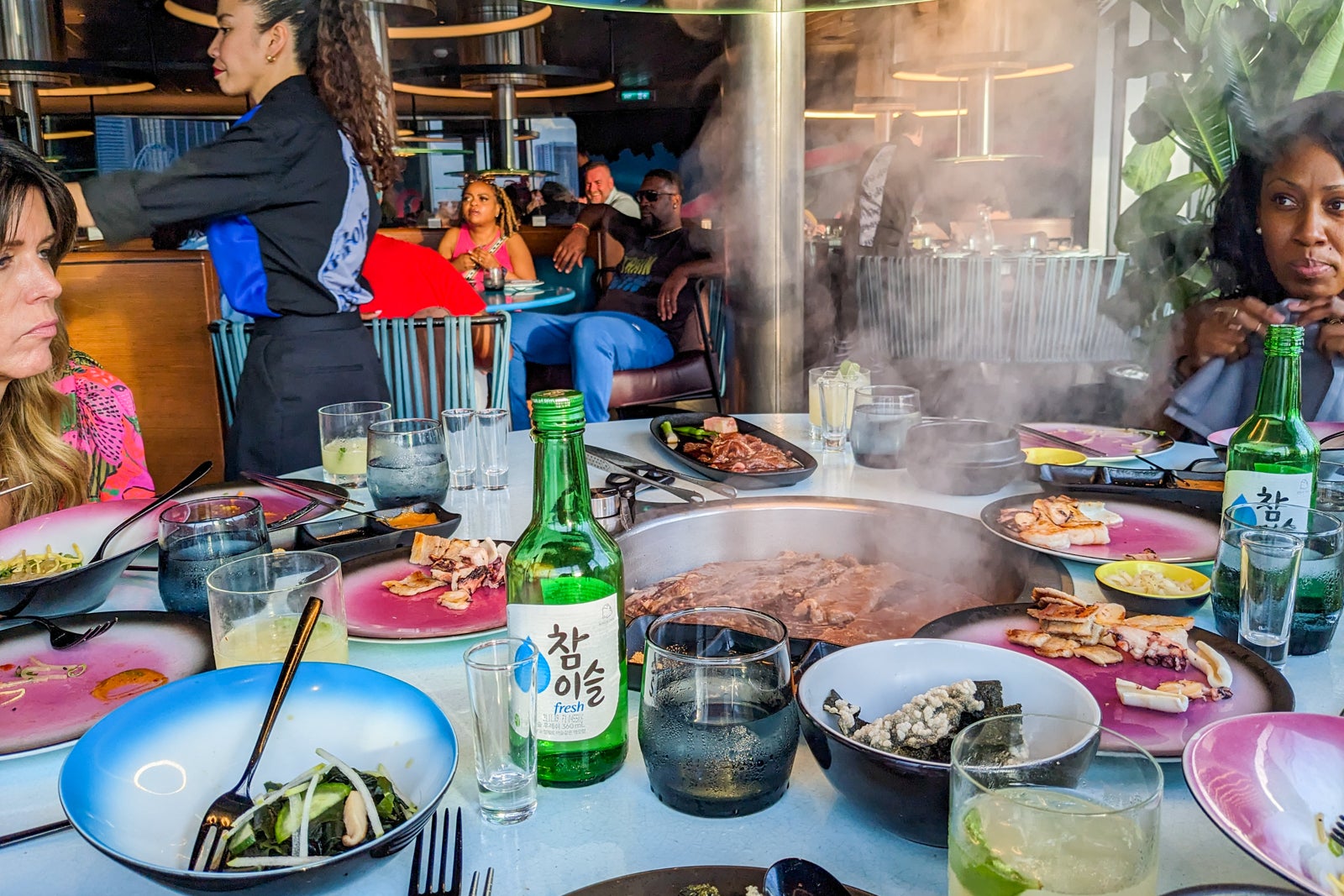 Razzle Dazzle is a vegetarian-forward restaurant (with several, no-longer-secret meat entrees ) open for brunch and dinner. At brunch, the spicy avocado toast gets high marks, and the cucumber-melon salad was a refreshing starter. Oddly, the restaurant had no jam for my British-style chocolate-chip scone and I had to make do with butter.
Indulge your inner child and order the coconut milk fairy toast with sprinkles and the loaded cookies mudslide, or take her to the adjacent Red Bar for a popcorn old-fashioned, served in a cup designed to look like the traditional red-and-white striped popcorn bags.
The only negative is that service here can be slow and inattentive.
On the opposite side of Sailor Services from Razzle Dazzle, Pink Agave is the fancier alternative to the Let's Taco Bout It outlet in The Galley. The so-called "elevated Mexican" dishes come in small, medium and large plates, and you can mix and match them and share with your tablemates. If you're feeling adventurous, order the mezcal cocktail topped with crunchy crickets.
I did not have the normal dinner experience at Extra Virgin, the ship's Italian restaurant, due to the themed sailing I was on, but I still got to try some of the venue's popular dishes. Previous cruisers tell me Extra Virgin is a surprise favorite because Italian restaurants are so ubiquitous, but Virgin's version delivers with fabulous dishes. Everyone raves about the meatballs, the pappardelle pasta and the ricotta bomboloni (like Italian donut holes).
The most fun dinner I had was at Test Kitchen. If you like surprises, and you're willing to turn control over your dinner to a chef, you will like this experimental restaurant as much as I did. The menu reads like this:
That's it. You can make adjustments for dietary restrictions, but your waiter will bring out dishes with each of those items starring in it in an unusual way and will announce what you're eating after the plate is set in front of you. The drink pairings are worth the extra fee; you can choose from cocktail, wine, beer or alcohol-free pairings, and they're all superb.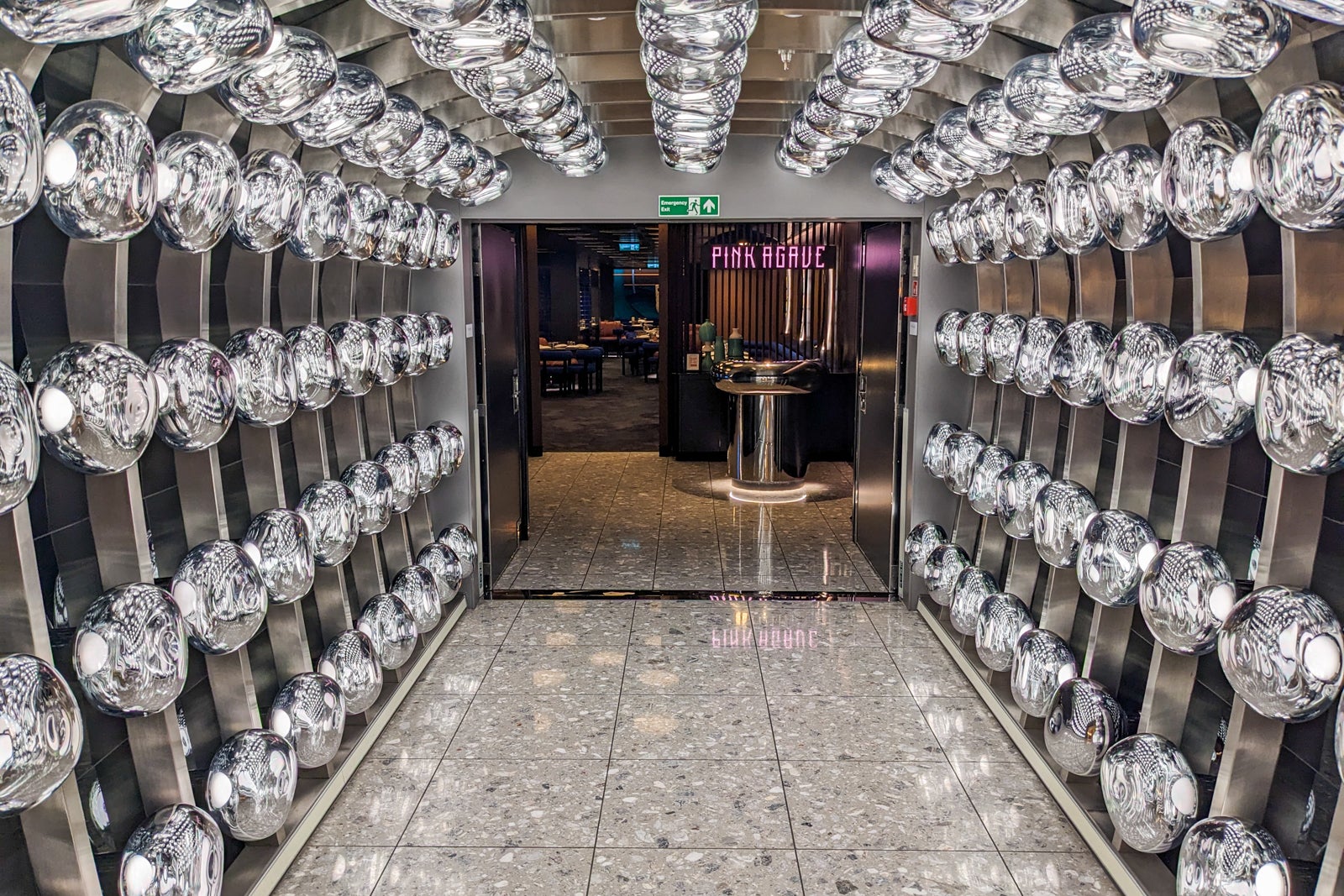 The Wake is the most traditional of Scarlet Lady's restaurants. It's your "get dolled up and eat steak" venue, with a glam vibe and large windows overlooking what else but the ship's wake. Toast yourself with a glass of bubbly while you dine like a king on clam chowder, roasted bone marrow, filet mignon and lamp chops. Seafood lovers should splurge on the extra-fee towers of lobster, oysters, shrimp, clams, mussels and crab. The Wake chocolate mousse dessert was the winner at our table.
The Wake also serves brunch and lunch, but I wouldn't recommend it for breakfast. The menu is tiny and fancy, mostly variants of eggs Benedict, a decadent brioche French toast, steak and eggs and a vegan dish. No fruit, no bacon, no oats. The waiter came around with a tray of off-menu pastries halfway through our meal, rather than when he served our coffee and tea. In addition, the restaurant's position low on the ship and above the engines means you feel and hear the vibration of the ship a lot and all the cups and saucers were rattling.
Scarlet Lady also has a supper club experience called It's a Ship Show, which takes place in The Manor. Virgin describes the experience as a mashup of an old-school variety show and a late-night talk show, with dinner, comedy and music.
The Dock and The Dock House are twin restaurants rocking the Mediterranean resort vibe. The Dock House is an indoor lounge where you and your sweetie can sip cocktails flavored with figs and anise while nibbling on mezze, like beet hummus and watermelon and feta salad, and pretending you're in Ibiza.
The Dock is the outdoor extension, with the same menu; recline on day beds or enjoy a tete-a-tete at low wooden seating areas while you enjoy grilled shrimp and falafel accompanied by cold-pressed juices or energy shots loaded with turmeric and ginger. The food was enjoyable, but it took forever to get served mid-afternoon after a tour.
The ultimate in casual dining, The Galley is Scarlet Lady's answer to the cruise ship buffet . It's more of a food hall with multiple themed stations (noodles, tacos, soup and salad, burgers, etc.) where you order by flagging down a waiter. It can get confusing because you do have to order in person from the dessert and breakfast bakery/yogurt counter and from the popsicle cart, and there are grab-and-go bento boxes, salads, wraps and snacks, which you can eat in conjunction with your sit-down meal or take with you.
The Galley's concept could use some refining, so be prepared. It works well when the venue is relatively quiet; you don't have to queue for food or worry about food sitting around or contaminated tongs. On the other hand, when it's busy and you just want a quick meal before your tour, it can be hard to flag down a server and your food can take 20 minutes to arrive. Plus, there's no option for hot food that you plate yourself and take back to your room if there are no seats because you have to have a table to order food at The Galley. Sometimes you just need those steam-tray eggs, grabbable bagels and premade pancakes, and you don't want a waiter-served meal.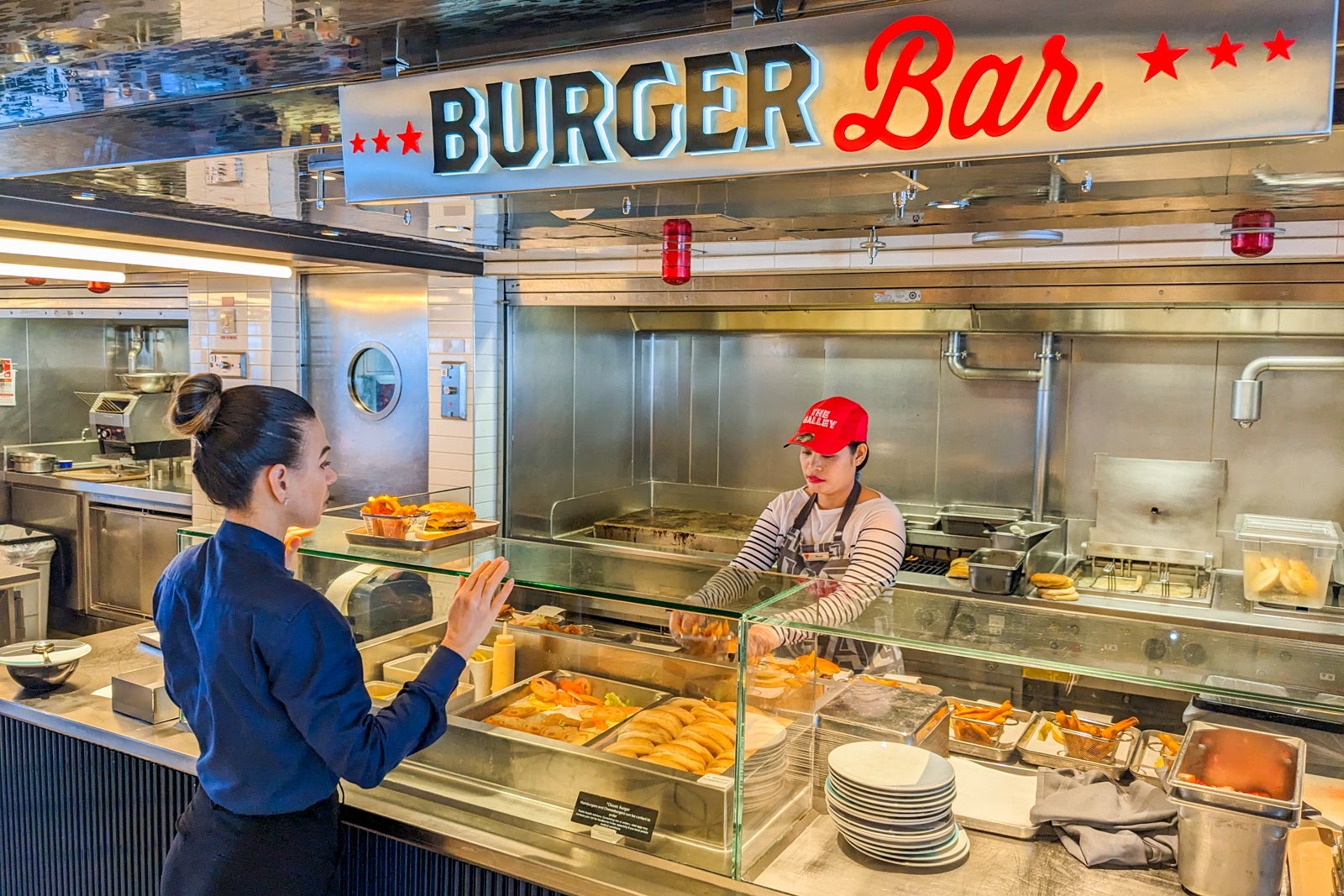 If you're catching some rays and don't want to give up your spot in the sun for lunch, The Sun Club Café is an easy pool deck grab-and-go option for anyone who likes poke bowls.
But the real casual-dining winner is The Pizza Place, churning out oven-fresh pizzas day and night in a light and airy space. I was a fan of the white truffle and egg pizza; the amusingly named "pretty fly for a white pie" also had staunch supporters. Grab a premade salad and take your pie out to the adjacent open-air patio to enjoy it in the Caribbean sunshine.
The pizzeria is located on Deck 7, where all the fun food is. Right next door is the Lick Me Till Ice Cream outpost where you can choose from a changing roster of hand-scooped ice cream and cone flavors. My favorite was the key lime pie ice cream. Down the hall is The Social Club Diner satisfying all your bar food cravings with hot dogs (including vegan ones), chicken wings and soft pretzels. You can also order sweets like cake pops and steal candy out of a jar (except it's not stealing if it's free and meant for you to take).
One of my favorite traditions on land or sea is afternoon tea, and Scarlet Lady offers a surprisingly impressive one at its Sip Lounge. I shouldn't be surprised, given Virgin's British origins, but I figured tea was not hip enough for the line. Tea service does cost extra – more if you want Champagne with your goodies – and I suggest you make it your lunch because it's way too much food for a snack. You get a full three-tiered tray with scones, finger sandwiches and too many sweets for one person to consume in one sitting.
The menu of JoJo loose leaf teas offers a nice selection of caffeinated and herbal teas. (I've been on fancier cruise lines that offered tea bags rather than loose leaf tea.) However, my tea oversteeped as the waiter forgot to leave the chain of the tea ball outside the pot and I couldn't get it out until I drank enough to reach in without burning my fingers.
Scarlet Lady does offer room service for a fee. You can order via the Sailor App. Unfortunately for me, I could not get the room service option to function properly on my phone, so I could neither see the menu nor order in-cabin dining.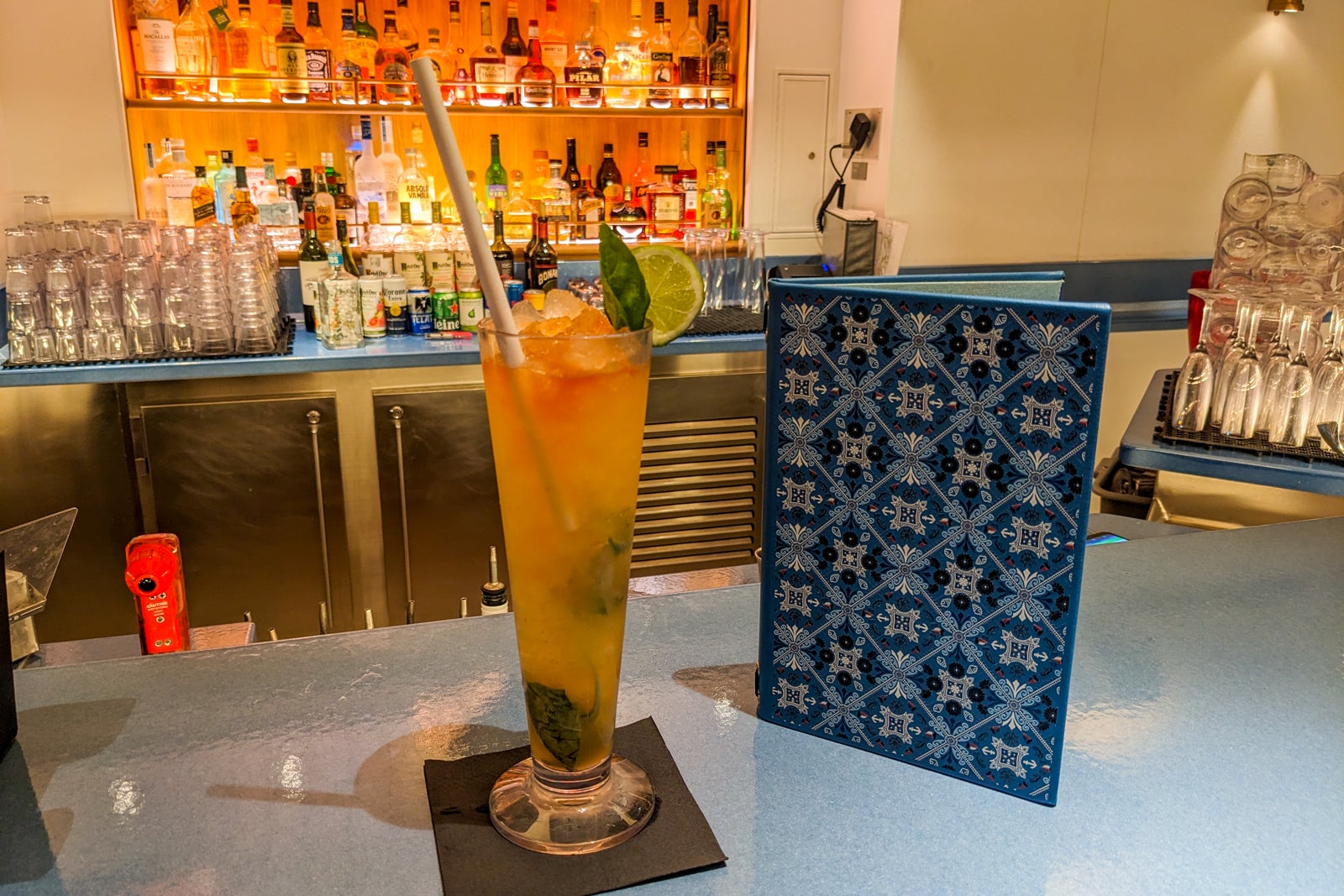 Virgin Voyages does not sell drink packages as typical cruise lines do. Instead, you can purchase a Bar Tab in advance, which is onboard credit you can only spend on drinks on the ship and at Virgin's Bimini Beach Club in the Bahamas. Look for booking promotions that include a free Bar Tab of a certain amount or give you bonus money on top of what you prepay.
You will certainly have many opportunities to spend your Bar Tab on board, whether that's wine with dinner, a morning latte or a cocktail at On the Rocks while you listen to live music. Drinking is a key component of Scarlet Lady's nightlife, but as far as I saw, most people embraced the fun but drank responsibly.
Scarlet Lady's Happenings Cast (ie, the entertainment team) lead Grog Walks around the ship that are a mix of pub crawl and icebreaker games so you can meet your shipmates. They do incur an extra fee to cover drinks, but they're insanely popular and sell out quickly. Try to book the one early in the cruise to meet people and get the lay of the lounge landscape.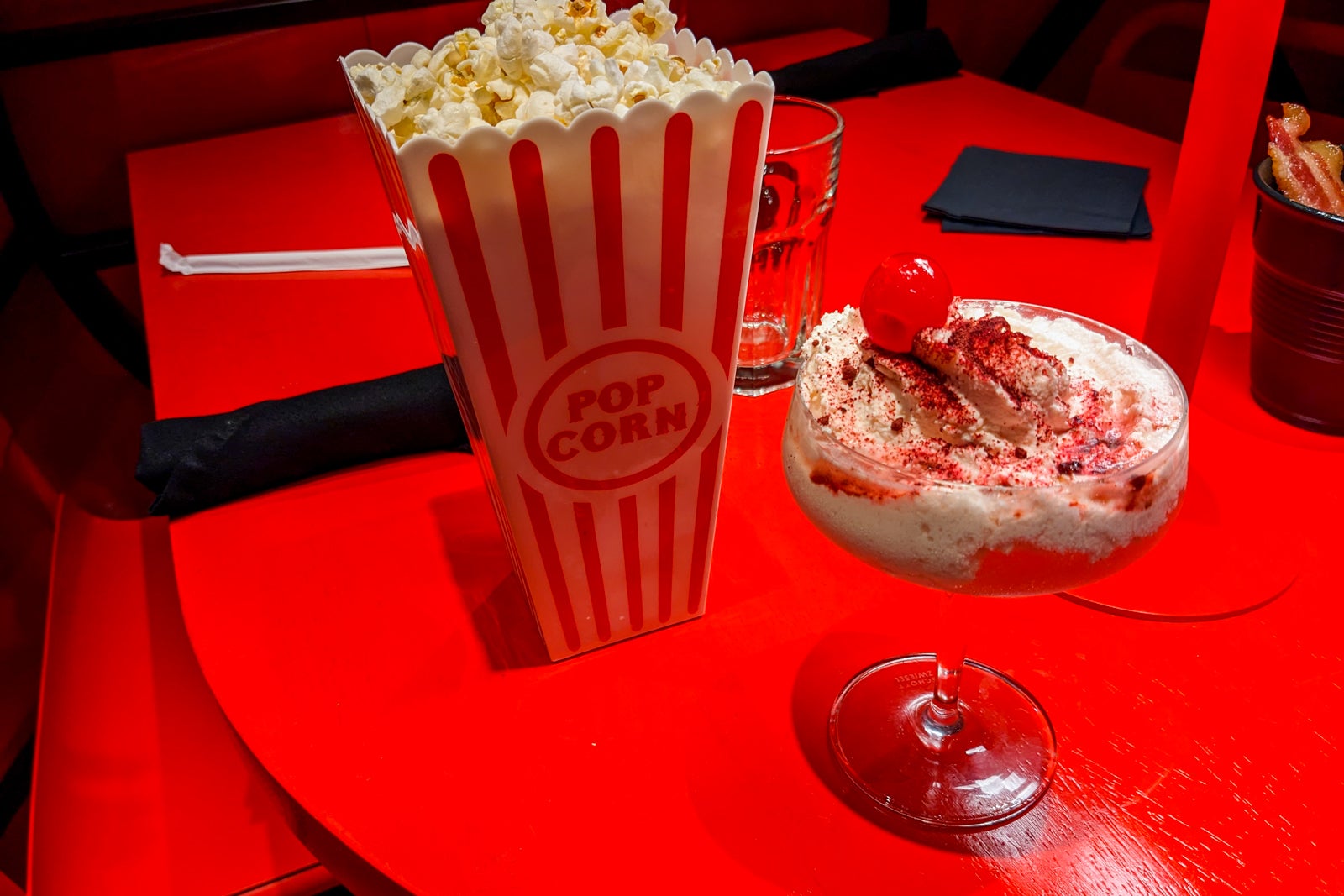 The two most popular bars on board each night are Sip, the Champagne bar (which also serves wine and cocktails), and On The Rocks, which is central to everything and usually has live music. If you want to get a buzz at a venue that's buzzing, choose one of these for your nightcap.
I loved the tucked-away Dock House Bar for a pre-dinner drink and its outside extension, The Dock, for day drinking while lounging on a sun bed. The Grounds Club is Virgin's nod to Starbucks, with all the caffeine and baked-good carbs you crave.
Restaurant bars of note are Pink Agave, with an enormous tequila and mezcal menu and some excellent margaritas, and the Red Bar at Razzle Dazzle with its crazy concoctions, such as the Popcorn Old-Fashioned (topped with actual popcorn). The Social Club Bar lets you embrace your inner child – if said child could drink alcohol – with alcoholic milkshakes and floats topped with candy and cookies.
Scarlet Lady has all the requisite poolside and sun deck bars, including ones offering smoothies and juices after your indoor or outdoor workout.
Related: We tried every bar on Virgin Voyages and ranked them from best to worst
Scarlet Lady activities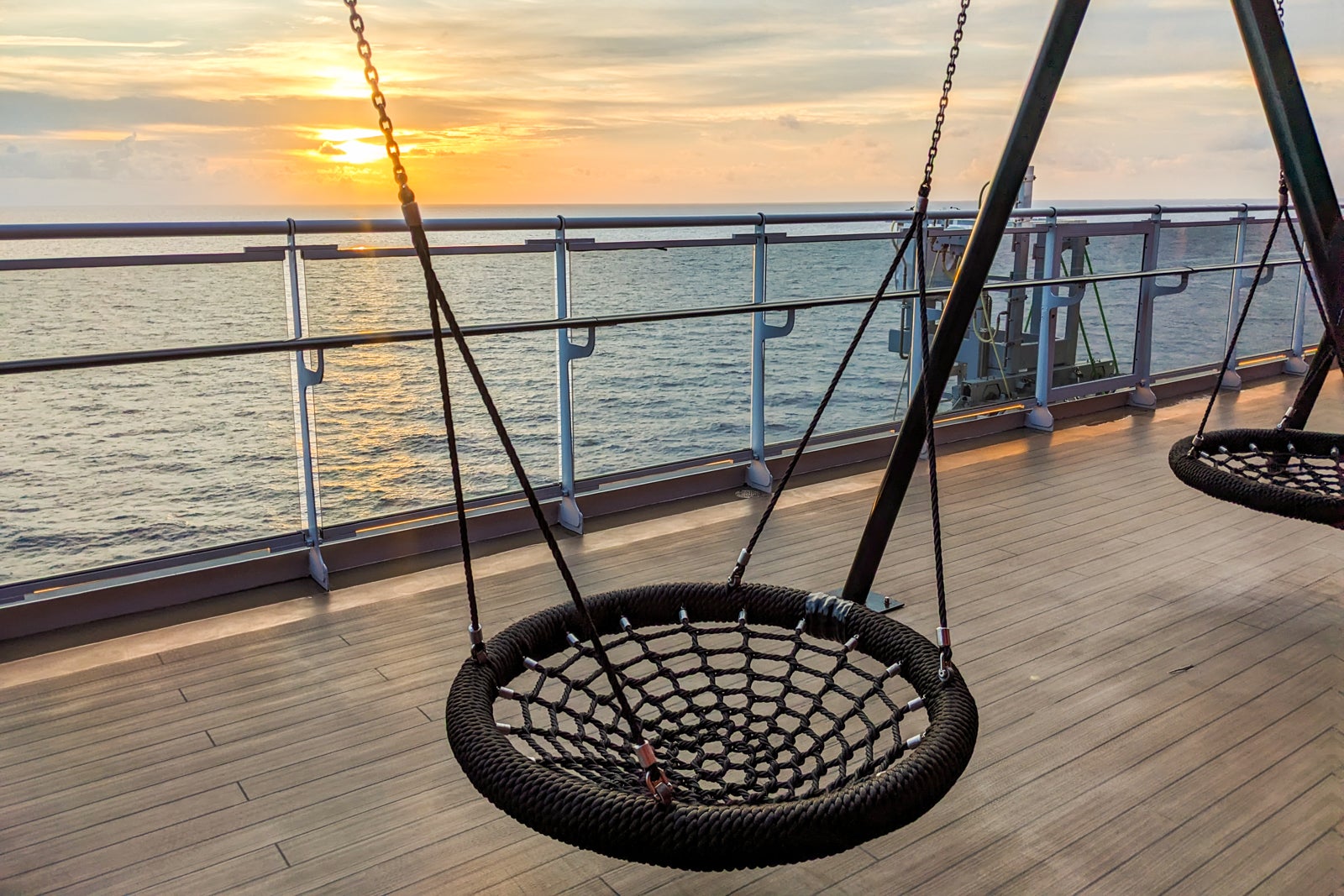 Scarlet Lady doesn't overwhelm you with scheduled activities when the vessel is at sea. Instead, the ship becomes your playground for you to enjoy however you like.
The top decks (15 – 17) are the places to head for fitness, fun in the sun or a combination of both. The Deck 15 Aquatic Club is where you'll find a standard pool and a well-being pool (essentially a large whirlpool), surrounded by day beds and lounge chairs. Additional sun-worshipping space can be found one deck up, including at the Athletic Club Bar at the back of the ship where you can perch on circular sunbeds or a suspended catamaran net with views to the wake below.
If you want to feel like a rockstar, you can rent one of the private cabanas on Deck 16. Each costs $250 for a full day and can be reserved at Sailor Services on Deck 5. Inside, you'll find daybeds for lounging and a drinks cooler prepped with fresh-pressed welcome juices. Your dedicated cabana attendant can bring you towels and food.
On the other hand, if working out is core to your vacation ideals, Scarlet Lady offers plenty of options, but the fitness areas aren't connected the way you think they might be, so look at a deck plan before you throw on your sneakers.
The Deck 15 B-Complex fitness center is divided into two halves: Burn + Bike portside, with a cycling studio and cardio machines, and Build + Balance starboard, with resistance machines and a studio for yoga, meditation and bungee classes. Take the stairs up to the Training Camp group fitness space, where you'll find HIIT classes.
Those are just the indoor options. Outside Training camp is a boxing ring, props for alfresco body weight exercises, a sports court for basketball and an adult playground with swings and a seesaw. Above on Deck 17 is a jogging track and a space for outdoor yoga. Back on Deck 15 by the wellness pool is another open-air workout space – especially good for show-offs since everyone lounging in that area can watch you sweat.
Virgin Voyages is known for its creative fitness classes, such as an '80s-themed workout where crew and guests don legwarmers and neon leotards to set the mood. As with the Grog Walk and prime dining times, group workouts also book up quickly, so reserve them as soon as you can. Also unlike the classes you may have tried on other cruise lines, Virgin's are aimed at active, younger adults, not seniors. You will work hard, and you will be sore the next day.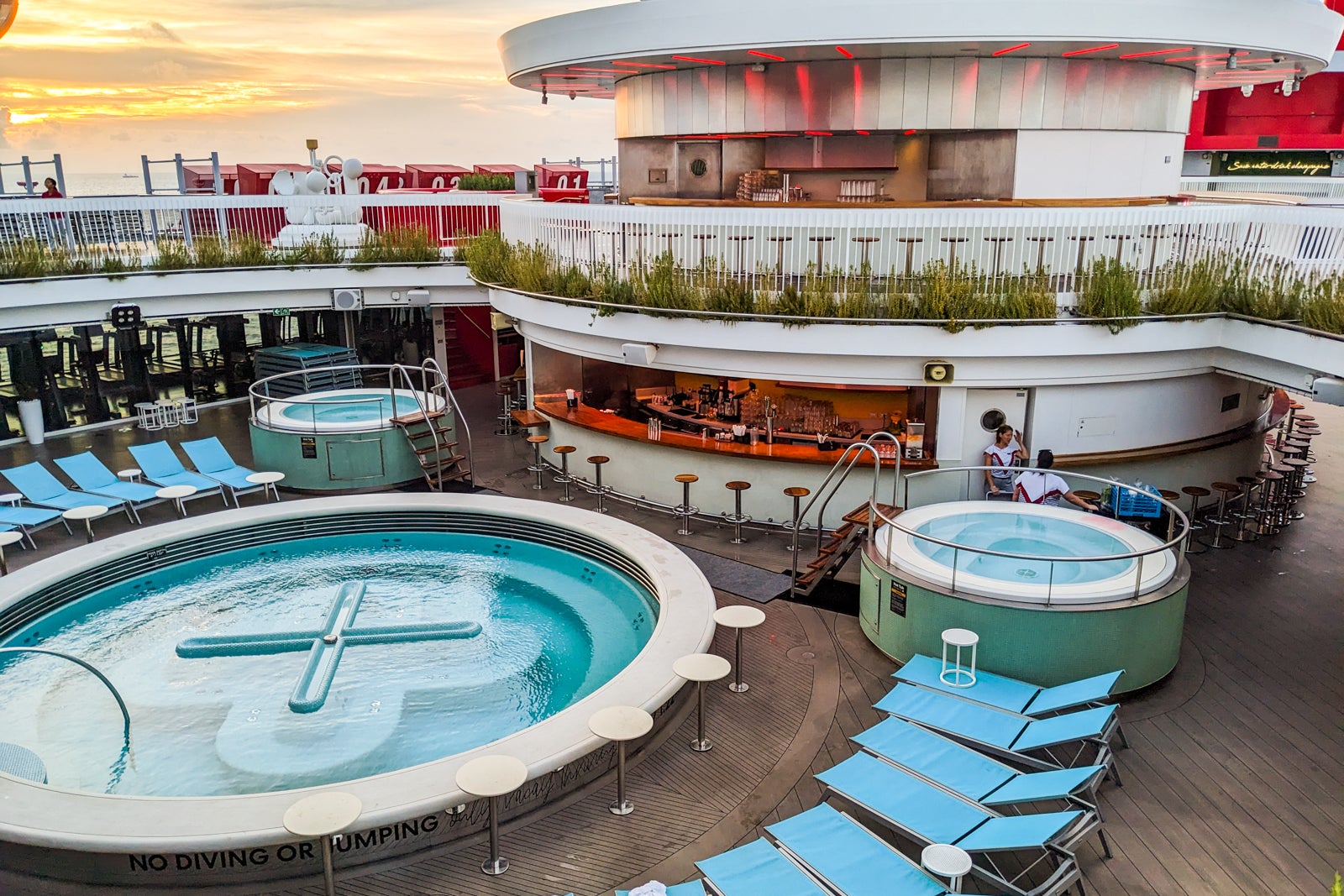 Scarlet Lady's Redemption Spa is also broken up and scattered around the ship. The main venue is tucked away on Deck 5 on the other side of the elevator bank from Sailor Services, Pink Agave and Razzle Dazzle. You'll find treatment rooms for massages here, as well as the thermal suite.
I highly recommend booking a three-hour pass to the suite and enjoying the sauna, steam room, salt room, mud room and more. There's nothing like taking a cup of mud (which looks like a chocolate milkshake) and rubbing it all over your body (or your partner's – this is Virgin after all) in the company of strangers. You won't need three hours, so consider showing up a bit late to avoid the rush at the beginning of each session.
On Deck 6, men can get a shave at Stubble and Groom, while women can get blowouts for Scarlet Night at Dry Dock. Also here is Virgin Voyages' groundbreaking tattoo parlor, Squid Ink , where you can pay inflated rates for the bragging rights of having gotten a tattoo at sea. For your other bodily needs, The Tune Up offers medispa treatments, manicures and pedicures by the pool on Deck 15.
The Deck 6 casino is a hopping place at night, partly because it's located between The Red Room performance space and On the Rocks Bar, with the entrance to the Manor nightclub just opposite. Beginners and high rollers alike can sign up for gaming lessons or poker tournaments at the WPT at Sea Poker Room in partnership with the World Poker Tour. However, hands down the most fun you'll have gambling on the ship is at Bingo With The Diva, Scarlet Lady's resident drag queen.
Other activities on board include trivia and solo traveler meetups. You can also hit the High Street shops for sundries, logo wear, hammocks, MAC cosmetics, designer clothes and purses, hair and skincare products and alcohol.
Scarlet Lady shows and parties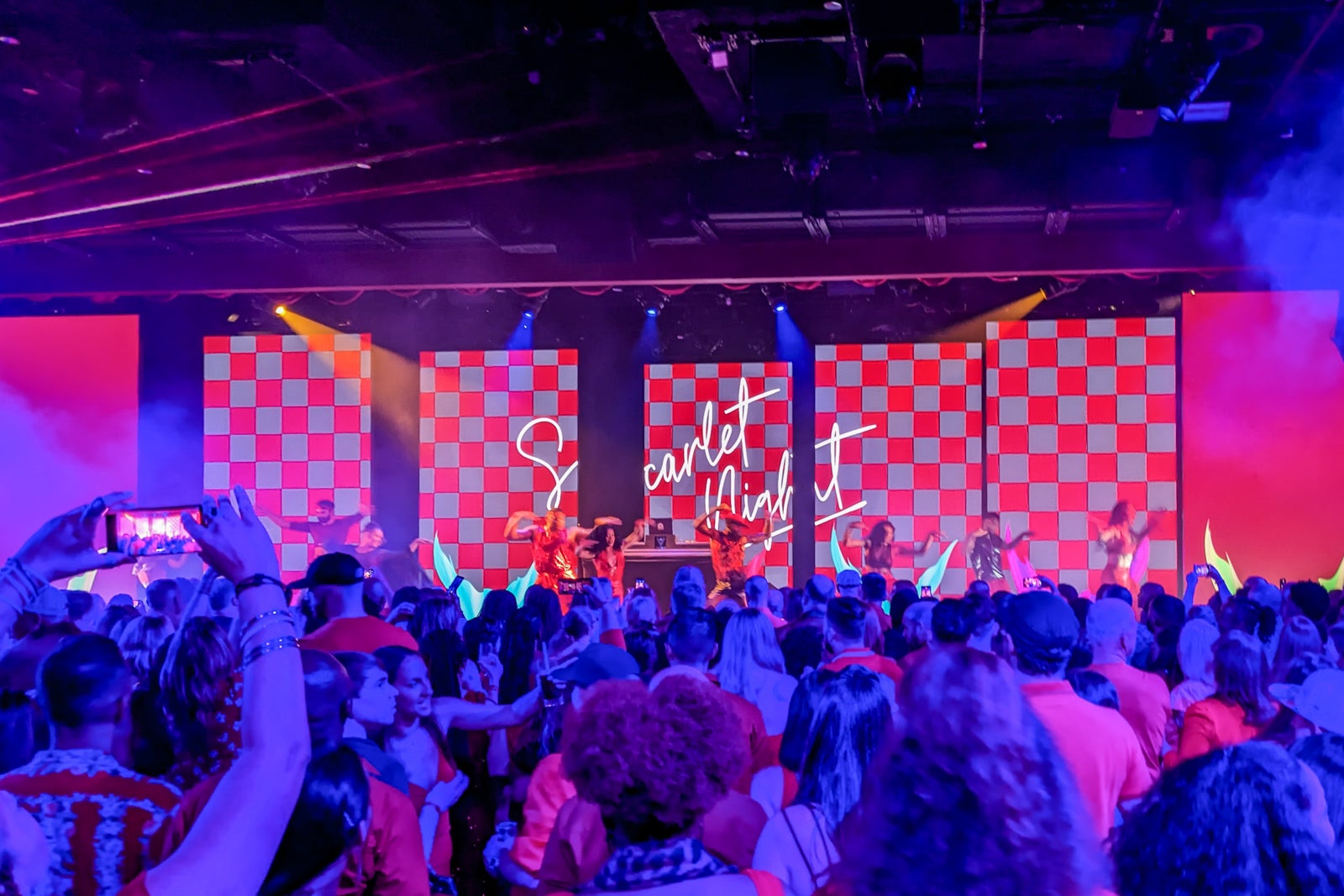 Scarlet Lady hits it out of the park when it comes to entertainment, both performances and parties. On many cruise ships, I'll go to a show, sit in the back and leave after 10 minutes. On Virgin, I was fully captivated for the length of the performance and often came out raving about the experience. I appreciate how the line has hired diverse performers in terms of race, size and gender expression, and how its shows do not shy away from mature language and sexual themes (both gay and straight).
I was also impressed how the cruise line creates parties and events that everyone shows up for and gets into. On other cruise lines, a deck party might attract a couple hundred guests, but on Virgin's Scarlet Night, pretty much everyone turns out.
Most main performances take place in the multipurpose, rearrangeable Red Room, but more intimate shows take over The Manor nightclub.
Here are some of the entertainment highlights of my five-night Caribbean cruise.
Ships in the Night: The first show I saw on Virgin was my least favorite. To be fair, I only was able to catch a portion of the show. The dancers were killing it, but the one singer couldn't carry the show.
Duel Reality: This engaging acrobatic performance is possibly the best show I've seen at sea, and if it's not, it's in the top three. You will be rooting not only for your team, but for love to conquer all in this original take on "Romeo and Juliet."
DanceShowPartyThing: The show's name says it all. You'll interact with the performers and join them in the Macarena, the stage will move around the room and you might not know what's going on, but it will be fun. If you despise Celine Dion's Titanic "My Heart Will Go On," you'll have a new appreciation after this performance.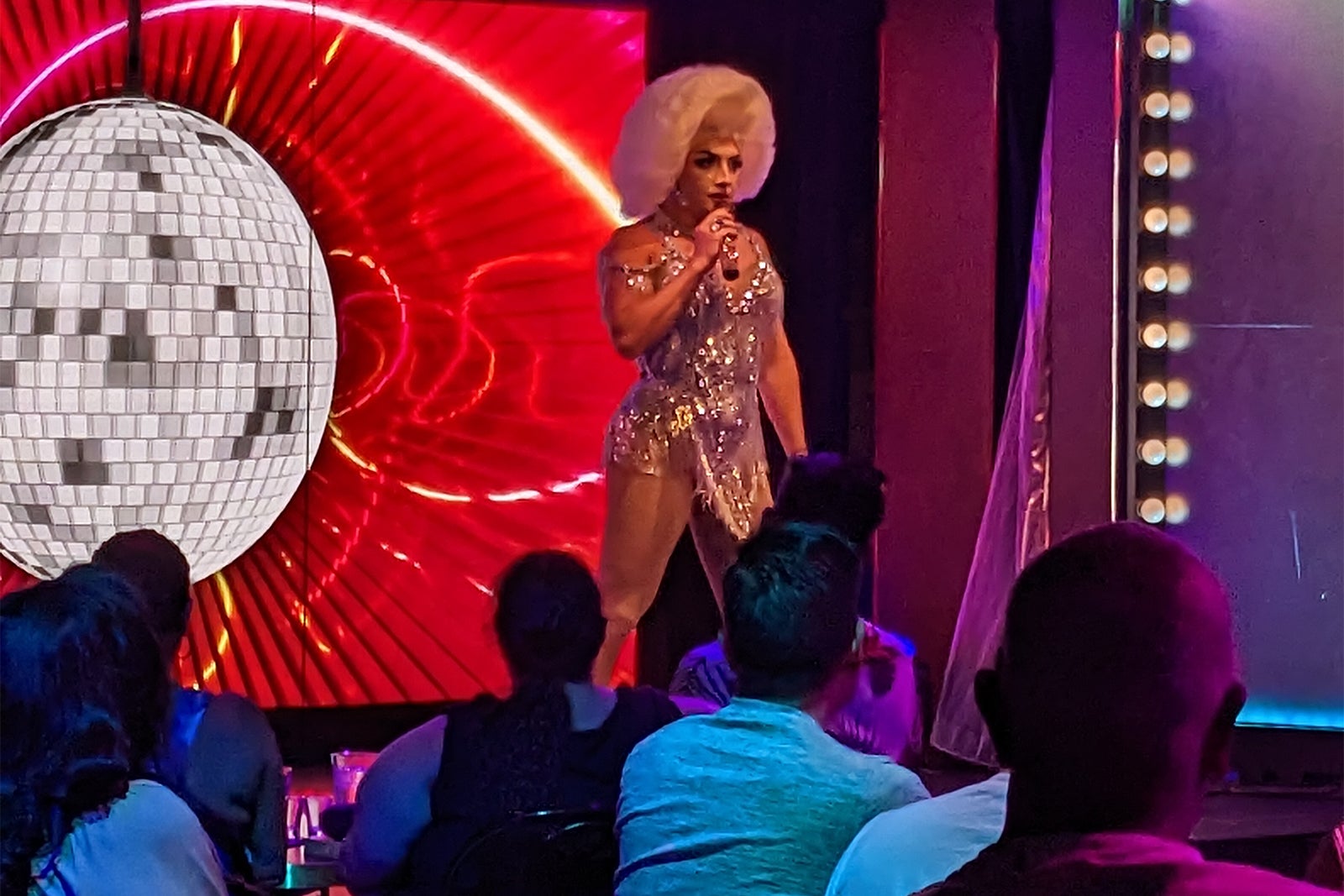 Around the World in 90 Minutes: I thought The Diva's drag show in The Manor was under-promoted, but perhaps that's on purpose because the small space was packed with the lucky folks who flagged it on their schedule. I reluctantly left after intermission, but if you want to laugh yourself silly and aren't afraid of being called out by The Diva, you don't want to miss this one.
Scarlet Lady also brings guest comedians and performers on board, and the ones I saw were top notch, including a young Latina pop group called Bella Dose.
Pretty much every night there's a themed party in The Manor or out on deck, but the ones you need to pack for are the PJ Party and Scarlet Night. Scarlet Lady's first-night pajama party is optional, but if you do want to get your Virgin vibe going on day one, pack a pair of party PJs and head to the Athletic Club bar on the first night.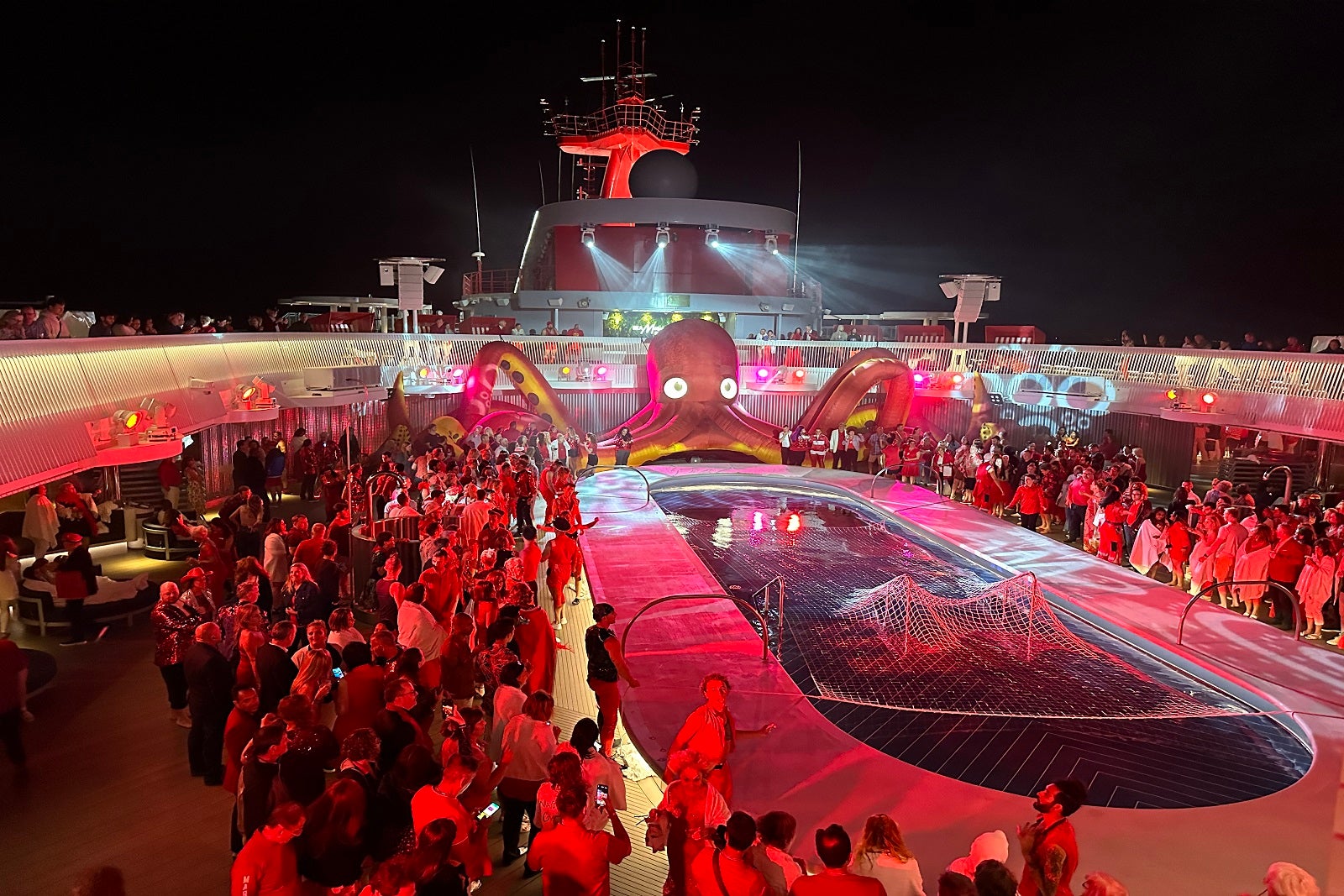 But the event to end all events is Scarlet night. If nothing else, you will want to wear red – whether that's a red cocktail dress or jumper, shirt, accessories or bathing suit. Some folks go all out formal, while others keep it casual. As long as you've got the right color, it's all good. The Roundabout is the place to be after dinner; look out for flash performances and crew members with invitations to secret parties. The entire ship will be out in force.
The actual Scarlet Night party takes place on the pool deck, and many revelers end up in the pool, so plan your wardrobe accordingly. It rained on our Scarlet Night so the entire event was moved into the Red Room, where it basically became a large nightclub with thudding base and not that interesting. The after party moves to The Manor, but I actually preferred hanging out at On The Rocks, listening to the killer band and watching all the outfits go by.
Scarlet Lady itineraries and pricing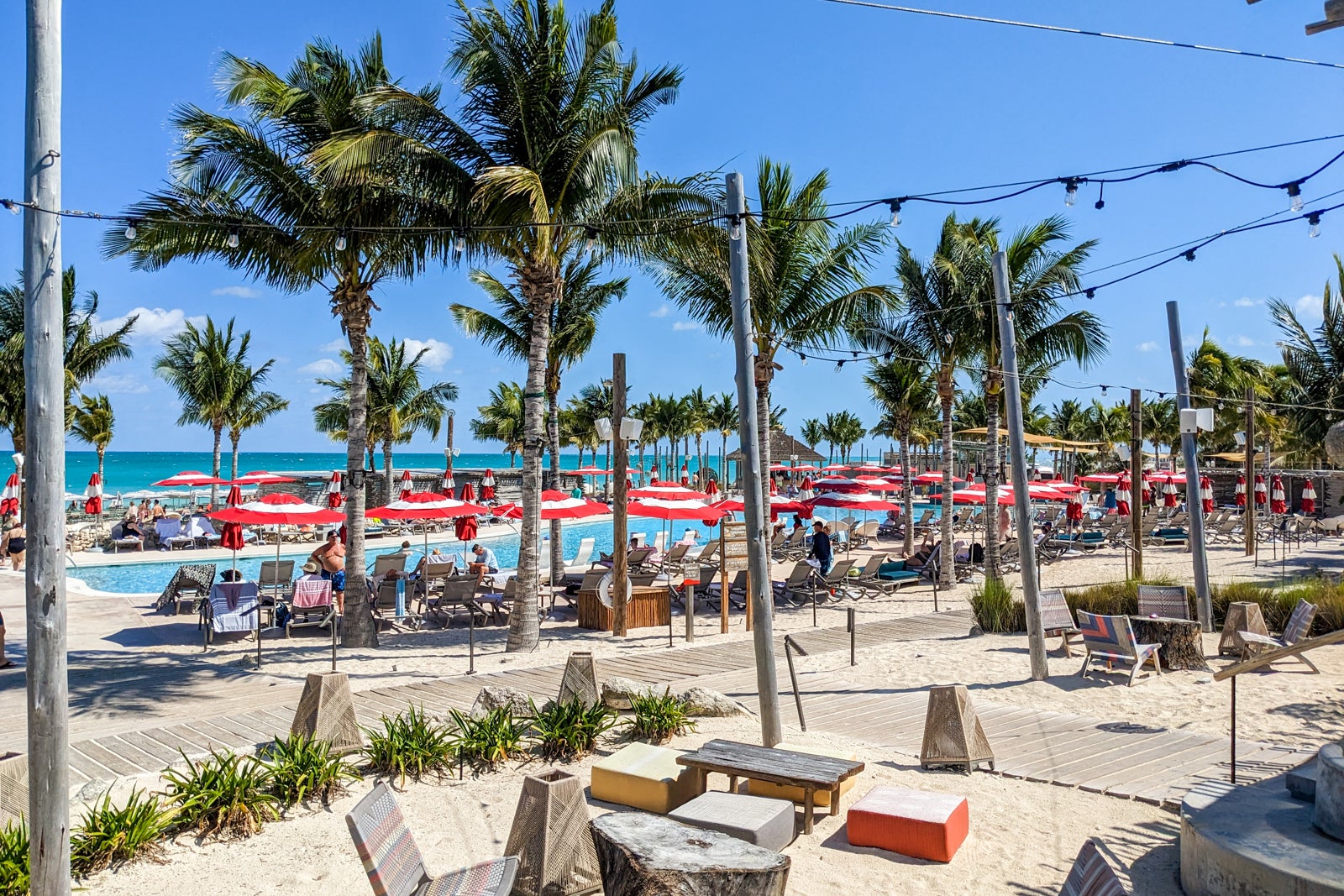 Scarlet Lady is currently based out of Miami, where the ship sails four itineraries to the Bahamas and the Caribbean. Each of the four- and five-night cruises spends a day at Virgin's private beach club in Bimini, Bahamas. Other ports of call may include Key West; Cozumel/Playa del Carmen or Costa Maya, Mexico; or Puerto Plata, Dominican Republic.
In April 2024, the ship will sail an epic 14-night transatlantic cruise to Barcelona, which will be Scarlet Lady's homebase at least through October 2024. From Spain, it will sail seven-night itineraries to ports in Italy, Spain and the French Riviera, all with overnights on the party island of Ibiza.
Fares start at $1,426 per cabin for a windowless Insider cabin on a four-night Fire & Sunset Soirees cruise to Key West and Bimini. Sea Terraces with private balconies start at $1,996 per cabin. The price is valid whether you have one or two travelers sharing the room, and does not include taxes and fees. You'll pay extra for the third or fourth person sharing your cabin.
What to know before you go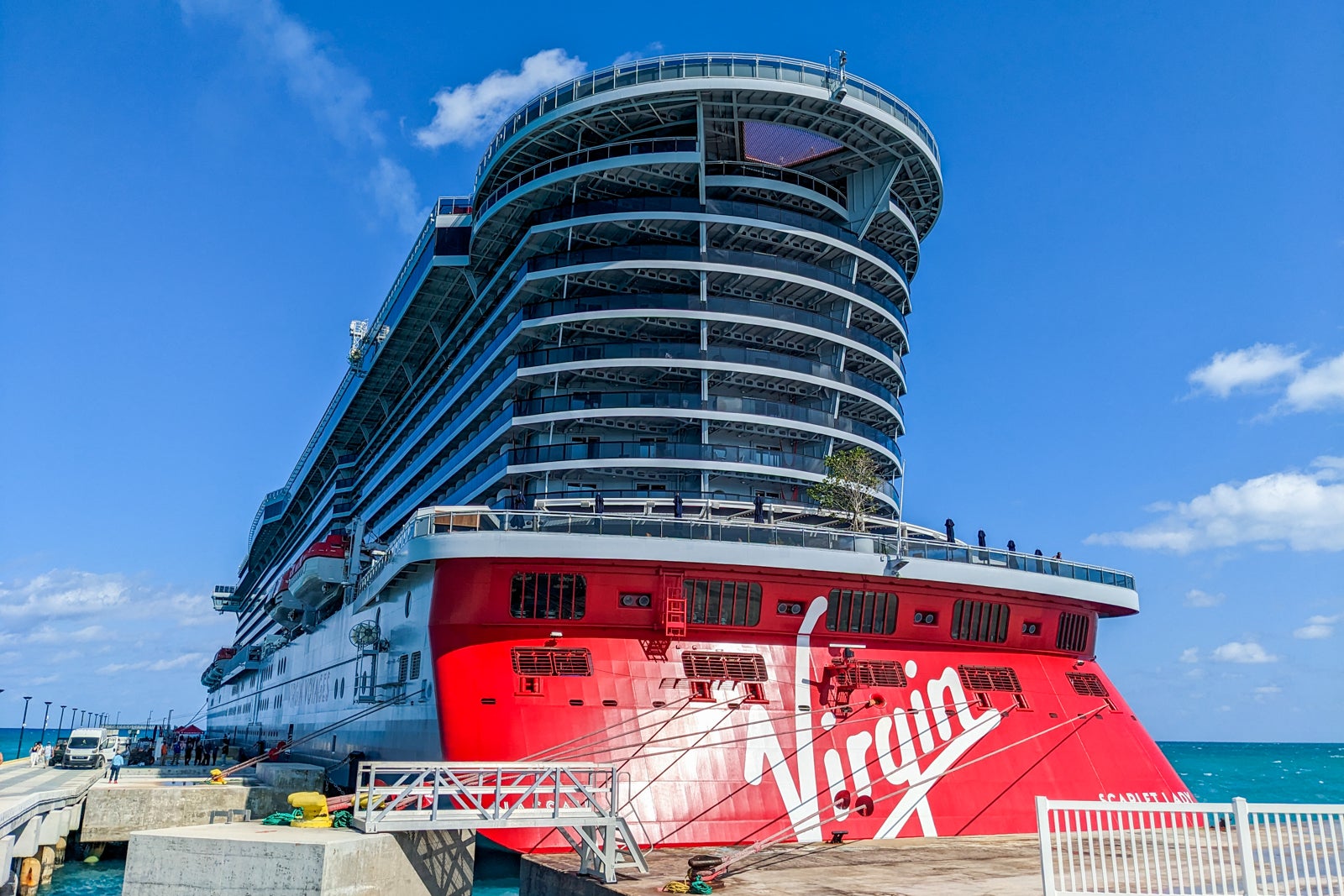 Required documents
If you're a U.S. citizen on one of Scarlet Lady's round-trip Miami sailings, you'll need a current passport or an official copy of your birth certificate and a driver's license or other government-issued photo ID to sail.
For the ship's transatlantic crossing and all subsequent cruises from Barcelona, you'll need a passport that is valid for at least six months beyond the date you return back to the U.S.
Green-card holders and non-U.S. citizens will need to check requirements based on destinations visited.
In addition, you will need to check in for your cruise online, fill out the appropriate information and select an arrival time for embarkation day.
Virgin Voyages include crew gratuities in its fares. You are welcome to tip your bartender or cabin attendant extra if you feel they've gone above or beyond, but it's not necessary.
You may want to bring some cash to tip the porters who take your suitcases from the pier to the ship and any tour guides who lead your ship-sponsored or private excursion in port.
Internet access is also included on your Scarlet Lady cruise. Wi-Fi is available throughout the ship, and your complimentary access covers two devices logged in at a time per passenger. If you wish to stream music and video, you can pay to upgrade to a Premium Wi-Fi plan, subject to availability.
Carry-on drinks policy
Virgin Voyages takes a reasonable approach to passengers bringing drinks on board. Each guest may bring on board a maximum of 12 sealed 12-ounce or smaller cans or cartons of nonalcoholic beverages (water, sports drinks, soda, non-alcoholic beer, etc.) and two 750mL bottles of wine. You may not bring liquor or beer.
You must transport these in your carry-on bags. Any beverages found in your checked luggage will be confiscated and returned at the end of your cruise.
If you choose to purchase "specialty liquors" in the ports you visit, you may bring these on board but they will also be held for you until the last night of the cruise. Make sure you adhere to customs regulations about how much alcohol you can bring back into the country from abroad.
Smoking policy
Passengers may only smoke (this includes vaping) in the Deck 6 smoking room outside the Red Room and in a designated outdoor area on the starboard side of Deck 16 by the entrance to Richard's Rooftop.
Guests may not smoke in their cabins or on cabin terraces. Anyone who breaks the rules will be fined $500 and may be disembarked at the next destination, with no refund for missed days on the ship and no compensation for lodging and/or airfare back home.
Virgin Voyages' ships do not have self-service laundry rooms. However, passengers can send individual clothing items out for pressing, washing and folding, or washing and pressing. You also have the option to get an entire bag of laundry washed and folded for a flat rate.
Eco-cleaning (wet washing but with less water and eco-friendly detergent that's easier on fabrics) is also available. Express turnaround (returned by 5:30 p.m. the same day when picked up before 11 a.m.) is available for an extra fee for both regular washing and for dry-cleaning. Non-express items will be returned the following day by 5:30 p.m.
Dry-cleaning is not available on board.
Electrical outlets
All cabins are outfitted with North American, USB and universal (European, U.K. and many other countries) outlets.
A balcony cabin will have two USB ports near the bed, along with a North American outlet. The desk and vanity area have two more USB ports (though one is taken up by the charging cable for the cabin's tablet, which controls the TV, curtains and temperature), two additional North American outlets and one universal outlet.
The bathrooms have no outlets, so you'll have to use electric razors and style your hair at the vanity.
The currency on Scarlet Lady is the U.S. dollar. Before you board, you'll link a credit card to your account (which you can do via the app prior to embarkation day) or put up a cash amount from which you can debit for purchases made on board.
The Band — an adjustable cord bracelet with a scannable device attached — is your room key and charge "card" when you sail. It's also used to scan you on and off the ship when you go ashore. More importantly, perhaps, it allows crew members to locate you when you shake for Champagne delivery.
Passengers will not receive keycards unless they have access to Richard's Rooftop, an exclusive sun deck reserved for cruisers booked in Rockstar Suites.
Drinking age
Although Virgin Voyages' ships allowed anyone 18 or older to sail, the drinking age on board is 21 years when ships are docked in the U.S. In international waters and in places like Europe, where the drinking age is 18, the onboard drinking age is 18.
Virgin Voyages has no official dress code. The line advises passengers to come as they are, whether it's a sparkly dress or jeans and a T-shirt. However, the average passenger enjoys looking chic and trendy, even when dressed down. Most people do change into something a little nicer for dinner, but you won't find any official formal nights on board.
Be sure to bring something red for Scarlet Night, whether that's a red dress, shirt or accessory. (Consider a red swimsuit if you intend to end the party in the pool.) Other themed nights include a pajama party and an '80s bash, so pack accordingly.
Bottom line
Scarlet Lady is the perfect ship for modern, young-at-heart travelers who love cutting-age entertainment, good food, a good party and lots of R&R. It's not the right choice for folks who are conservative minded or easily offended, or longtime cruisers looking for a traditional experience. If you've never cruised because you don't like kids, crowds, banquet-style dining or lackluster entertainment, this might be the ship that changes your mind.
Planning a cruise? Start with these stories:
The 5 most desirable cabin locations on any cruise ship
A beginners guide to picking a cruise line
The 8 worst cabin locations on any cruise ship
The ultimate guide to what to pack for a cruise
A quick guide to the most popular cruise lines
21 tips and tricks that will make your cruise go smoothly
15 ways cruisers waste money
The ultimate guide to choosing a cruise ship cabin
Our Cruise Ships
Pick up where you left off….
Your vacation awaits — don't let these voyages sail away.
It's not just where you go, but how you get there
Meet our gorgeous lady ships
Scarlet Lady
Valiant Lady
Resilient Lady
Brilliant Lady
Miami (USA)
SAILING PORTS:
Beach Club at Bimini,
Costa Maya,
Puerto Plata,
Cozumel - Playa del Carmen,
SAILING SINCE
Barcelona (Spain)
Palma de Mallorca,
Marina di Carrara,
Ajaccio, Corsica,
Funchal, Madeira
Piraeus (Athens | Greece)
Australia & South Pacific,
Piraeus (Athens),
Airlie Beach (Queensland),
Benoa, Bali,
Port Klang (Kuala Lumpur),
Mumbai (Bombay),
Alexandria (Cairo)
San Juan (Puerto Rico)
Pointe-à-Pitre,
Bridgetown,
St. John's,
Oranjestad,
Willemstad,
Fort-de-France,
Coming soon
Rejuvenation meets exhilaration
From getting pampered to popping champagne, what's happening on our cruise ships (way) above deck., michelin-starred chef-curated menus in 20+ eateries., so many reasons to raise a glass…or two., immersive productions to jaw-dropping experiences., go from vitamin a to sea with wellness your way., luxury suites bring you the lifestyle you deserve., go from chic to sleep in your plush retreat., just the facts and ship stats, cabins & suites, 86% feature a sea terrace hammock, max. sailors, population of clinton, nj, crew members, from all over the world — just like the un, about 23 miles per hour, 155 richard bransons, 86,982 london buses.
100% Adults Only
Exclusively Adult experiences
Clever Cabin Tech
Sailing into the 21st century like…
SAILING TO NET ZERO
A sea change for all
Best dining. best nightlife. and counting..
We've always dreamed of creating transformational experiences for our Sailors. And being recognized for it in so many ways is incredibly heartwarming. Take a peek at our accolades and the humbling awards that motivate us to sail forward.
Our cruise ships are making quite a splash online
No one understands what voyaging with us is like better than our Sailors. So instead of going on about everything that makes sailing with us an epic experience, we'll let them do the talking.
Be the first to get our exclusive deals + onboard happenings
Oops, something went wrong. Please try again or visit our Contact Us page. You can also:
Check you've typed your email address correctly.
Make sure you've checked the signup box.
We architect our emails as carefully as we do our ships.
Yes, I want to receive email updates from Virgin Voyages. See our Privacy notice.
Yes, I want to receive promotional and personalized marketing text messages (ex: booking hold reminders) at the cell phone number entered. Reply HELP for help, STOP to cancel. Message frequency varies. Message & data rates may apply. View Terms & Privacy.
You can, of course, unsubscribe at any time. Find out how here .
Please enter a valid number
Sorry, there's something wrong
Woop, woop, you're signed up!
...your inbox won't know what hit it 💃🕺
Scarlet Lady
Virgin voyages.
Year of built 2020
Length (LOA) 278 m / 912 ft
Passengers 2860
Destination Cozumel
ETA November 21, 12:00
Temperature
November 2023
December 2023
January 2024
February 2024
August 2024
September 2024
October 2024
November 2024
Eastern Caribbean
Panama Canal
Southern Caribbean
Transatlantic
Western Caribbean
Carnival Cruise Line
Celebrity Cruises
Crystal Cruises
MSC Cruises
Norwegian Cruise Line
Oceania Cruises
Regent Seven Seas Cruises
Royal Caribbean
Virgin Voyages
Ports Of Call
Scarlet Lady
Scarlet Lady out of Miami
Virgin Voyages is a brand new cruise line launched in 2020 by Richard Branson's Virgin Group. Virgin Voyages has two ships in its fleet: the Scarlet Lady and the Valiant Lady. Both ships are designed exclusively for adults and provide an all-inclusive luxury experience. Traditional components of cruises, like set meal times, buffets, and gratuities, have been eliminated by Virgin Voyages, which may appeal to new cruisers. The ships have the elegant luxury of a yacht and a variety of intriguing and unusual places. Virgin Voyages is reimagining what it means to be a luxury cruise ship by fusing premium aspects of land-based favorites with the freedom and simplicity of a life well lived on the open sea.
Scarlet Lady Cruise Ship
There are plenty of daily activities on board Scarlet Lady to keep you busy. The deck layouts of the Scarlet Lady are well thought out, and they keep the ship's entertainment venues and sleeping quarters widely apart so that passengers may get a decent night's sleep after enjoying the ship's many busy bars and music venues. Eighty-six percent of the staterooms (called Sea Terraces) on the Scarlet Lady have a balcony, and these balconies are larger and more spacious than those on most other cruise ships. There is a great cabin or suite for you to rest, relax, or bring the after-party, whether you choose the Sea Terrace, Sea View, Isider, or RockStar Quarters. Scarlet Lady from Virgin Voyages has everything a discerning cruiser could want, bars, sports venues and shops.
Scarlet Lady Calendars, Cruise Ship Itinerary and Schedule
On a Scarlet Lady cruise out of Miami, it's not hard to take it easy. Whether you're a family of performers, a calm-loving couple, or a bunch of water lovers, on a Scarlet Lady cruise you've already arrived at your perfect destination. Virgin Voyages brings you outstanding value for the money in addition to an extraordinary experience.
4-day Bahamas from Miami
Scarlet lady, virgin voyages.
Date: November 29, 2023
Ports of Call: Miami, Key West, Bimini, Miami; View Itinerary
6-day Western Caribbean from Miami
Date: December 27, 2023
Ports of Call: Miami, Roatan, Costa Maya, Bimini, Miami; View Itinerary
5-day Western Caribbean from Miami
Date: March 24, 2024
Ports of Call: Miami, Cozumel, Bimini, Miami; View Itinerary
Date: March 20, 2024
5-day Eastern Caribbean from Miami
Date: March 1, 2024
Ports of Call: Miami, Puerto Plata, Bimini, Miami; View Itinerary
Date: February 11, 2024
Date: March 10, 2024
Date: January 6, 2024
Date: February 21, 2024
Date: December 13, 2023
Date: January 14, 2024
Date: April 12, 2024
Date: February 2, 2024
Date: March 15, 2024
Date: February 16, 2024
Date: December 8, 2023
Date: January 19, 2024
Date: December 17, 2023
Date: January 2, 2024
Date: March 6, 2024
Date: April 7, 2024
Date: January 10, 2024
Date: December 22, 2023
Date: November 19, 2023
Date: March 29, 2024
Date: January 28, 2024
Date: January 24, 2024
Date: April 17, 2024
Date: February 25, 2024
Date: April 3, 2024
Privacy Policy
Terms of Use
Vacation Rentals
Restaurants
Things to do
Things to Do
Travel Stories
Rental Cars
Add a Place
Travel Forum
Travelers' Choice
Help Center
Virgin Voyages Scarlet Lady Deck Plans & Reviews
Virgin Voyages Scarlet Lady
Activities & entertainment
Active Diversions
Aquatic Club
B-Complex Build & Balance
B-Complex Burn & Bike
Boxing Ring
Fitness Classes
Gym & Tonic Bar
Redemption Spa *
Sports Area
Stubble & Groom *
Sun Club Sanctuary
Tattoo Parlor *
The Roundabout Atrium
Training Camp
The Tune Up *
The Crow's Nest
The Cabanas *
Squid Ink *
Richard's Rooftop
The Casino *
Vibrant Nightlife
The Wake - Aft-facing Surf & Turf
The Test Kitchen - Experimental
Extra Virgin - italian
Gunbae - Korean BBQ
The Galley - Market-style food hall
Pink Agave - Mexican & Mezcal
Sun Club Cafe - Outdoor Casual
The Dock - Outdoor Eatery
The Pizza Place - Pizza
Aquatic Club Bar - Poolside Bar *
The Athletic Club Bar - Sports Drinks *
Razzle Dazzle - Vegetarian
Excellent 1,500
Very Good 347
Average 245
Terrible 147
All languages ( 2,371 )
English ( 2,362 )
Spanish ( 9 )
Upcoming itineraries
Full Itinerary Details For Announced 2024/2025 Sailings
Posted on 7 September 2023 by the VV Insider team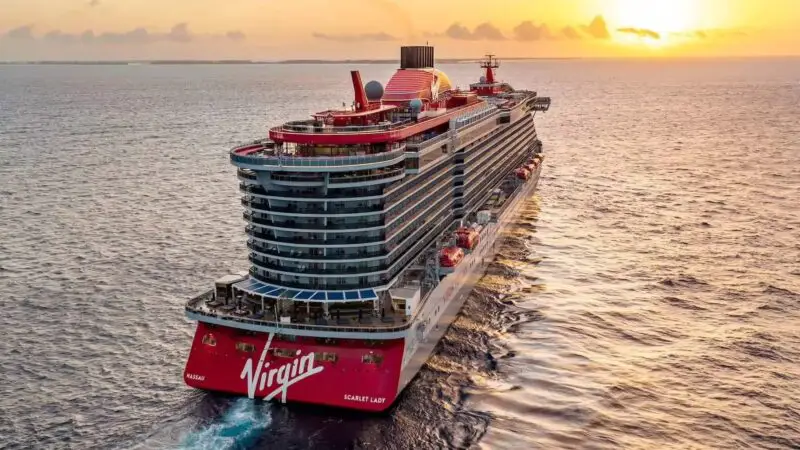 Stay Updated
Get exclusive Virgin Voyages® cruise guides, hints and the latest news about itineraries and announcements directly to your inbox.
2024/2025 sailings were announced earlier today by Virgin Voyages . To make things easier to understand we have compiled a list of all known new sailings in the announcement for each ship. We can now exclusively reveal a full breakdown of each new sailing announced today by Virgin Voyages®.
We have also included a list of the affected Brilliant Lady voyages that have been moved to Valiant Lady after her delayed launch was announced .
These sailing will be able to be booked directly with Virgin Voyages® or with your preferred travel provider on 11 September.
This information comes directly from the Virgin Voyages reimbursement form .
Explore By Ship
Scarlet Lady 2024/2025 Itineraries
Resilient Lady 2024/2025 Itineraries
Valiant Lady 2024/2025 Itineraries  (including Brilliant Lady replacement voyages)
New Scarlet Lady 2024/2025 Sailings
Scarlet Lady will end her Mediterranean season in Rome as she heading into a temporary dry dock period, ending on 28 November with a rare Winter transatlantic crossing from Rome to Miami. Scarlet Lady will then resume a series of 6 and 8 night Caribbean voyages.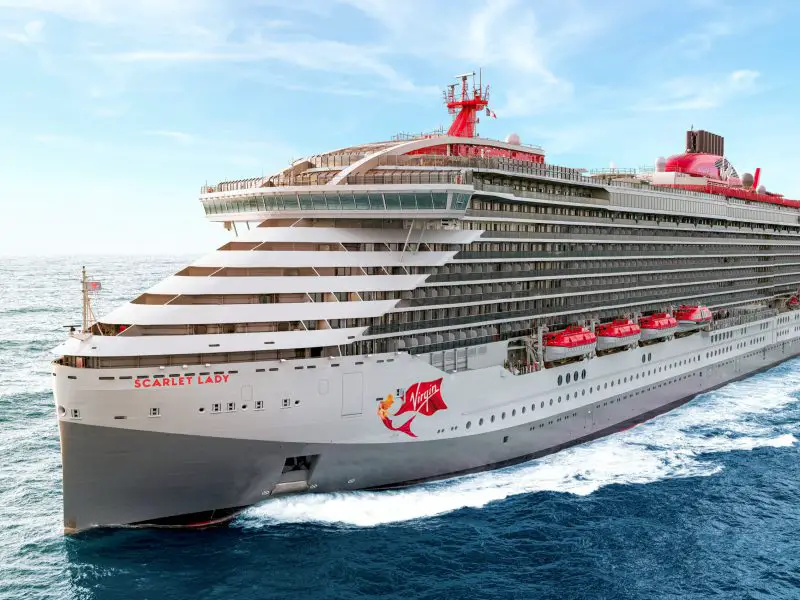 New Resilient Lady 2024/2025 Sailings
Resilient Lady will make her first voyage to the UK with an Atlantis charter cruise making the crossing from Athens at the end of her Greek-based itineraries in Sumer next year. From there she will be based in Portsmouth serving itineraries to other UK ports, Amsterdam, Spain and Morocco. At the end of her short UK season she will make her 2nd crossing to Sydney to resume the Australian and New Zealand voyages she will be debuting at the end of 2023.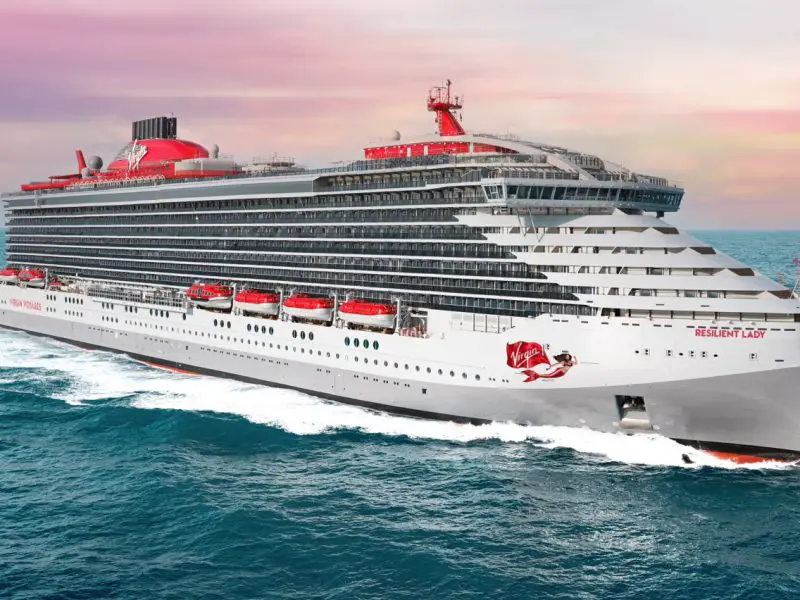 Valiant Lady 2024/2025 Sailings
Brilliant lady replacement sailings.
Valiant Lady is picking up the voyages left by the delayed Brilliant Lady. Being based from San Juan she will perform a roster of Southeastern Caribbean Isles and Lesser Antilles voyages before finishing the short season in March by returning to Miami. The rest of her sailings remain unchanged from the current season at present.
Newly Announced Valiant Lady Sailings
Newley announced voyages for Valiant Lady see her resuming her Caribbean and Dominican voyages until the end of the announced period.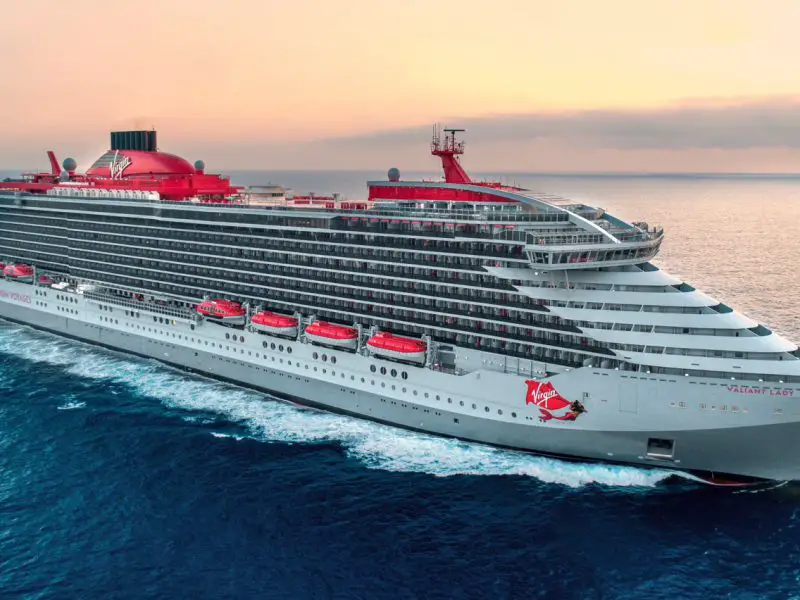 Scarlet Lady - October 22, 2023
Click For Interactive Map
October 22, 2023
October 22 - 27, 2023
Scarlet Lady
Virgin Voyages
5 Night Mayan Sol
from Miami, Florida
The October 22, 2023 cruise on the Scarlet Lady departs from Miami, Florida. On this 5 Night Mayan Sol sailing, the ship will visit a total of 3 different cruise port destinations, including its departure port. The Scarlet Lady sets sail on a Sunday (October 22, 2023) and returns on a Friday (October 27, 2023).
The Scarlet Lady was built in 2020 and is amoung Virgin Voyages's 4 ships in it's fleet. The Scarlet Lady is included in the cruise line's Lady Ship Class. In the cruise ship stats below you'll find the Scarlet Lady vs all other Virgin Voyages ships.
All Itineraries
Explore all that Miami has to offer, from the magnificent Port of Miami, to the world famous Everglades and Biscayne National Parks, historic Coconut Grove, and trendy South Beach. Other attractions include the Miami Seaquarium , Miami MetroZoo, and sports teams the Dolphins, Heat and Marlins. No wonder so many celebrities, such as Gloria Estefan, Madonna and Ricky Martin, call Miami home.
Explore all that Miami has to offer, from the magnificent Port of Miami, to the world famous Everglades and Biscayne National Parks, historic Coconut Grove, and trendy South Beach. Other attractions...
Take advantage of the many on board activites during your day at sea. You'll have more than enough to fill your day!
Costa Maya is located on the Mayan Riviera, so named because was the home of the Mayans. Lush jungle vegetation is juxtaposed with beautiful beaches that have recently become the destination for scuba divers and snorkelers wishing to explore the untouched coral reef. or take a drive through the jungle and see an amazing combination of birds and mammals, like the wild deer and jaguars, spider monkeys, monkeys, and even alligators.
Costa Maya is located on the Mayan Riviera, so named because was the home of the Mayans. Lush jungle vegetation is juxtaposed with beautiful beaches that have recently become the destination for...
The Beach Club

Best Bahamas Cruises
Posted: November 18, 2023 | Last updated: November 18, 2023
Cruises to the Bahamas are filled with sun, soft sands, and the opportunity to dip your toes in a warm and seductive crystal blue sea. The 700-island archipelago is the kind of oasis you dream of when, in my case at least, you're indoors on a cold and dark day in Cleveland. Exploring the islands is tricky by air, but much easier via ship. Bahamas cruises to take right now include quick jaunts from easy-to-get-to Florida ports as well as one-week and longer cruises that explore more deeply. You can sail there in less than a day from Florida (cruises tend to embark in the early evening and hang out at sea until the next morning ashore), which makes it both an easy escape for a quick getaway or somewhere to linger for even more rest and relaxation.
What to expect on a Bahamas cruise
The main places cruise ships visit in the Bahamas are Nassau, the capital city, and some of the islands and beaches that are affiliated with cruise lines, such as Disney's private family wonderland Castaway Cay, off Great Abaco Island. There are small ships that explore further, including to the southern reaches of the archipelago.
Cruise passengers will find opportunities to hike in national parks, enjoy nearly deserted beaches, and explore many small churches-the Bahamas boasts more churches per capita than anywhere else in the world.
In the Bahamian capital of Nassau on New Providence Island, visitors can get a better understanding of the nation's British colonial and West African slave history as well as of the Junkanoo culture and festivals at wonderful museums. Most day visitors, though, are typically focused on water attractions: heading off on diving or snorkeling excursions, boarding party boats with free-flowing rum punch, experiencing the beaches, swimming pools, and waterslides at the Atlantis Bahamas resort on Paradise Island, or trying to catch the big one on fishing charters.
On small ship itineraries, you may stop at San Salvador Island, where Christopher Columbus may or may not have made his first landing in the New World. (Historians quibble on the exact landing spot.) A white cross memorializes the supposed landing spot. Long Island, which stretches some 80 miles, has both rugged and sandy coasts and the natural attraction of Dean's Blue Hole, one of the deepest sinkholes in the world at 663 feet, a place where divers and snorkelers can mingle with turtles and tarpons. The small island of Bimini is known for its clean beaches and rich marine life-hanging out at beach clubs, seeking quiet escapes in the land, and watching for dolphins and other sea creatures are prime activities.
Other cruise destinations include Eleuthera, with its inviting pink sands and protected park areas. In addition to beaches, the 365-island chain known as the Exumas are famous for swimming pigs (though they also live elsewhere in the Bahamas).
Best Bahamas cruises
Celebrity cruises' "nassau & bimini" itinerary.
Best for: Upscale big ship experience
To book: 4-nights round-trip from Miami , from $473 per person for a veranda stateroom; from $801 per person for AquaClass; and from $2,245 per person for the Retreat
Islands: Nassau (New Providence), Bimini, plus Key West
Celebrity Cruises sails to Nassau and Bimini in style, and if time or money is tight, you don't have to invest too much in your Bahamas getaway. You can book, for instance, an easy, breezy four-night trip on the 2,158-passenger Celebrity Summit from under $500 per person. That said, if you splurge on a suite in the Retreat, you'll have your own sundeck with hot tub, enjoy private lounge access, and dine at the exclusive restaurant Luminae, where signature dishes by Celebrity's culinary ambassador, Daniel Boulud, are featured on the rotating menu-such as creamy carrot and ginger velouté and Moroccan chicken tagine with saffron couscous. Spa lovers might want to book the AquaClass staterooms, with complimentary access to a Persian Garden with infrared sauna and sensory showers and exclusive dining at health focused Blu, where the wine list features sustainable and biodynamic wines. While in Bimini, you might try your hand at sport-fishing, a year-round pastime from the island.
Disney Cruise Line's Bahamian Cruise from Fort Lauderdale
Best for: Families and Disney fans of all ages
To book: 5-night Bahamas cruise from Fort Lauderdale on the 2,700-passenger Disney Magic , from $6,299 for four guests
Islands: Castaway Cay, Nassau (New Providence), Eleuthera
Disney Cruise Line has ships in the Bahamas year-round, starting with quick three- and four-night sailings from Florida ports. Ever since it first opened 1998, the highlight of any Disney cruise in the Bahamas has been Castaway Cay, a picture-perfect white-sand island paradise, complete with pirate attractions and Disney character appearances. What has Disney fans all atwitter is the opening in summer 2024 of a second exclusive for Disney Bahamas destination, Lighthouse Point, on the island of Eleuthera. There, Disney promises a celebration of Bahamian culture, including Junkanoo parades, characters from Bahamas folklore, and performances by local artists. An accompanying commitment to conservation at Lighthouse Point includes a solar installation that will provide at least 90 percent of the destination's required electricity (Castaway Cay also has a solar installation). Family-friendly attractions abound but grown-ups can also drop the kids off in a supervised activity program and head to the adults-only beach to sip cocktails while lounging in private cabanas.
Ritz-Carlton Yacht Collection's round-trip sailing from Fort Lauderdale
Best for: Top-of-the-line luxury experience
To book: 7-night cruise from Fort Lauderdale on the 298-passenger Evrima , from $6,100 per person
Islands: Nassau (New Providence), Bimini, San Salvador, Long Island, plus Key West
On the Ritz-Carlton Yacht Collection's 298-passenger Evrima , you can head to the secluded dipping pool and pretend you are on your own private yacht, luxuriate in your resort-like suite, or join an intimate dance party on the Marina Terrace, located just above the sea. A seven-night itinerary in December 2023 gets you from Fort Lauderdale to Nassau, Bimini, San Salvador, and Long Island, Bahamas, with the bonus of some additional time built in to enjoy the Hemingway House & Museum and other attractions in Key West, Florida. Optional small group shore excursions in the Bahamas include an "Eco-Marine Safari" on Long Island, that combines small boat exploration of a mangrove channel and sandbars with a visit to see swimming pigs in a quiet cay. With both the cruise line and the Royal at Atlantis on Paradise Island affiliated with Marriott International , there's also a hotel tie-in-you can book a daybed at the resort's chic adults-only pool area, the Cove .
Scenic's "Island Odyssey: Bahamas to the Grenadines" cruise
Best for: Underwater and air exploration
To book: 12-night sailing in fall 2024 from $9,963 per person
Islands: Compass Cay, Great Exuma Island, San Salvador Island, Long Island, Great Inagua Island in the Bahamas. Also, Virgin Gorda, St. Bart's, Monserrat, Iles des Saintes (Guadeloupe), Tobago Cays (St. Vincent and the Grenadines)
The luxurious 228-passenger Scenic Eclipse features some of the best exploration toys in the industry. An expedition team runs excursions including with two helicopters and a submarine, which will enhance your Bahamas views from both over and under the sea. Or borrow paddleboards and kayaks from the ship's marina for your own solo exploration. A 12-night sailing from Nassau to Bridgetown, Barbados, starts with six days in the Bahamas, before following the yachting crowd south. Stops include Compass Cay in the Exuma Cays, where in the clear water you might see nurse sharks even from the ship. Bird lovers will enjoy a rare visit to the southernmost island in the Bahamas, Great Inagua Island, with its resident population of some 80,000 flamingos. Whiskey lovers will want to check out the ship's collection of more than 110 varieties.
SeaDream Yacht Club's "Bountiful Bahamas" cruise
Best for: Low-key luxury
To book: 7-night cruise in April 2025 , from $4,399 per person
Islands: Nassau (New Providence), Staniel Cay, Great Exuma, San Salvador, Salt Cay
You'll have to wait until 2025, but small-ship line SeaDream has an intriguing pair of upcoming round-trip cruises to the Bahamas from tony Palm Beach, Florida, on the 112-passenger SeaDream II . The "Bountiful Bahamas" itinerary lingers in the Exumas and around Long Island, with the opportunity to explore pristine beaches, hang out at beach shack bars, and snorkel in the clear sea. There's also an unusual visit to the uninhabited Bahamas island Salt Cay (also known as Cay Sal), only accessible by boat and some 50 miles from Marathon, Florida. In between kayaking quiet bays, try the yacht's newest attraction, an inflatable slide running from the pool deck into the water. SeaDream prides itself on cuisine and was the first cruise line with a full vegan raw food menu in addition to such indulgences as a signature l'oeuf poule au caviar (egg with caviar), grilled lobster, and filet mignon.
Virgin Voyages' "Fire & Sunset Soirées" cruise
Best for: Fun-seeking adults
To book: 4-night "Fire & Sunset Soirées" on the 2,770-passenger Scarlet Lady or Valiant Lady from $1,920 for two in a Sea Terrace cabin
Islands: Bimini, plus Key West
For pure adult fun you can't beat Virgin Voyages , which is limited to those age 18 and up. During a beach day at the Virgin Voyages Beach Club at Bimini, private to Virgin guests when their ships visit, enjoy cocktails at the pool or a beach bonfire. Or book an activity such as a watercolor painting class, a "Views-n-Blues Mid-Afternoon Cruise" on a pontoon, an open-air tram tour of the island, or scuba dive with hammerheads. On the ship, partake in dance parties, take advantage of complimentary yoga, meditation sessions, and intense cardio HIIT classes, peruse vinyl selections on sale at the record shop, and get a tattoo or piercing when not indulging in treats at the "Lick Me Till  . . .  Ice Cream" shop. There are also six restaurants onboard, including a highly creative "Test Kitchen" where dishes smoke and sizzle, and a super-fun Korean baarbecue experience, Gunbae, complete with drinking games.
More for You
Abe Stoklasa, Nashville Musician and Songwriter, Dies at 38
Avoid Buying These 10 Cars That Will Likely Break Down After 100K Miles
I'm 60 with $6,100-a-month in Social Security disability and a pension. I want my money to work for 20 years — what do you recommend?
Mathematicians Have Found The Ninth Dedekind Number, After 32 Years of Searching
Gripped by drought, this island is running out of drinking water
These Are the Pups That Top the List of Smartest Dog Breeds
Manchin exit deals blow to Senate compromise
I Work at Goodwill: Here Are 9 Insider Secrets You Should Know
Philippines Hit By Earthquake of 6.8 Magnitude. Here's What to Know
College football winners, losers in Week 12: Texas takes big step forward, Auburn suffers historic loss
'Extremely unusual': CNN data reporter on new polling ahead of 2024 election
Watching Ukraine burn through ammo fighting Russia has the US Army rethinking how much it really needs for when war breaks out
FBI, CDC shredded for 'dropping the ball' on secret Chinese lab found in US: 'Reads like a movie script'
Weight-Loss Drugs Pose Risks for People Over 65, Experts Say
Draymond Green got roasted on Saturday Night Live
This Is the No. 1 City People Want to Move to in the U.S.
The sneaky legal strategy that could be motivating Trump and his lawyers' N.Y. behavior
IDF combat helicopter targeting Hamas fighters at Nova festival massacre shot some partygoers by mistake, says Haaretz
2024 battle for Senate majority: These five seats held by Democrats are most likely to flip
California workers died of a preventable disease. The threat was known years earlier
Richard Branson gifts Virgin passengers on a domestic flight a free cruise
More than 150 passengers on a flight from Melbourne to Hobart were left in complete and utter shock after a wild gesture from Sir Richard Branson himself.
Aussie airline's bold new $59 flight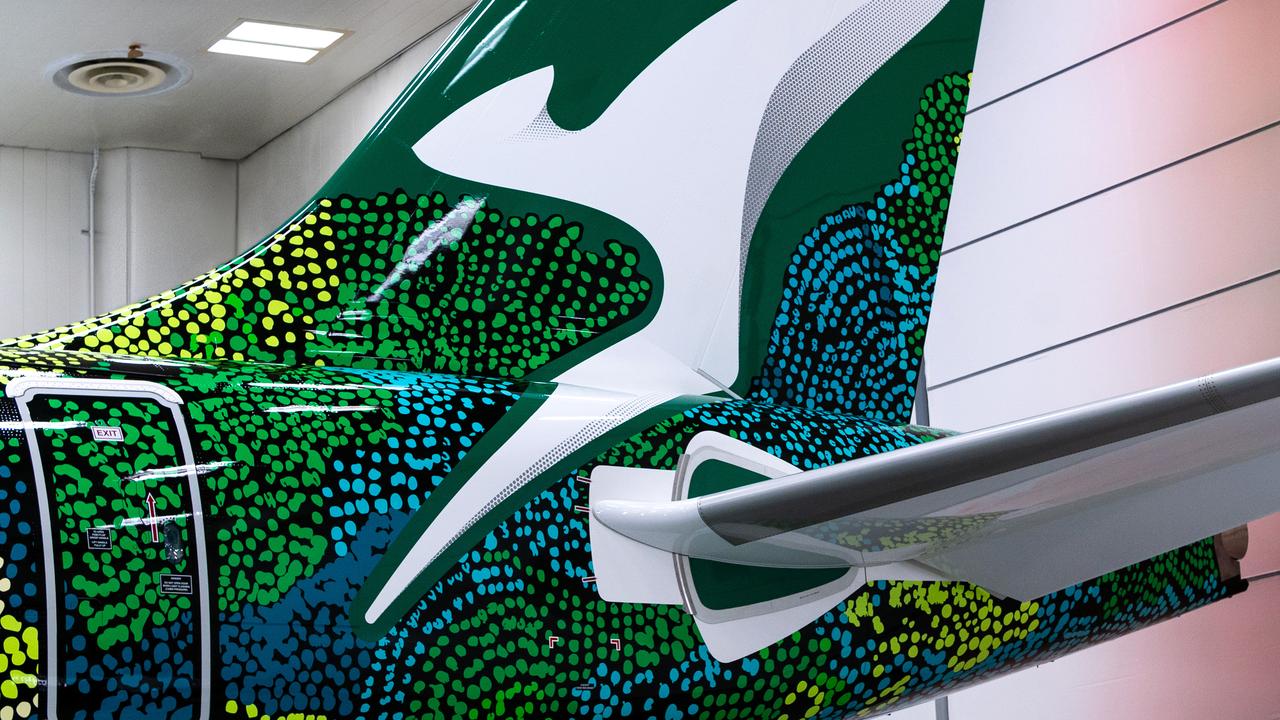 Qantas' drastic change to iconic plane look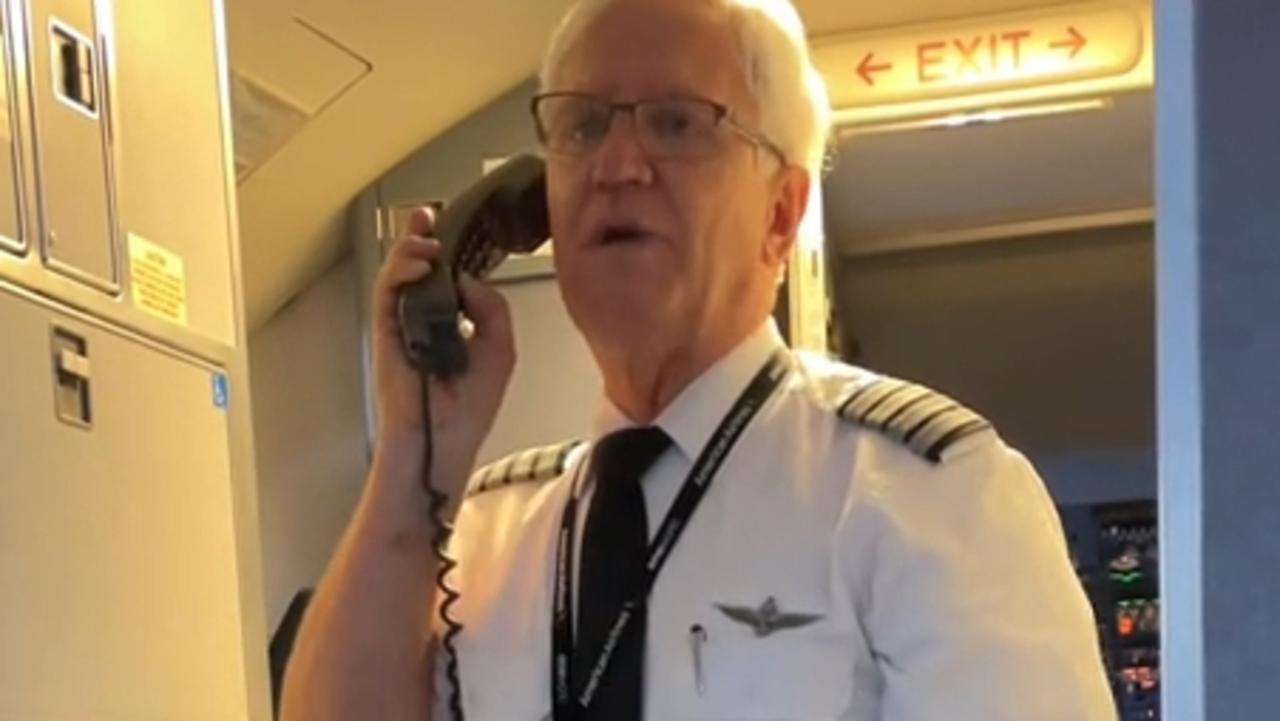 'Forgive me': Teary pilot's emotional speech
Passengers on-board a Virgin Australia flight were left in complete shock when founder Sir Richard Branson dialled in via Facetime and offered them a free holiday worth up to $7,000 each.
The more than 150 passengers were on flight VA 1316, heading from Melbourne to Hobart on Thursday morning when the man himself gifted them a free Virgin Voyages sail to celebrate the cruise line's arrival in Australia.
It will head to Australia for the first time ever next month with the Resilient Lady (Virgin Voyages' Australian ship) calling Melbourne its home port.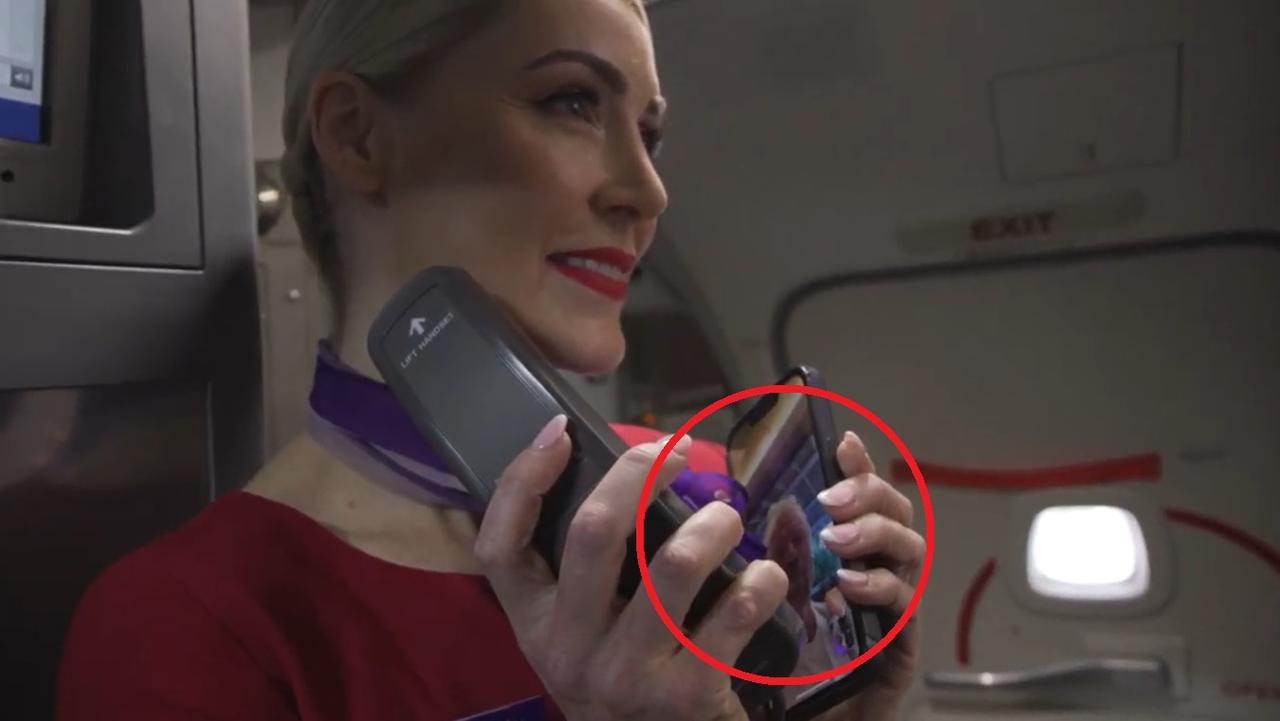 It's also why that particular flight was chosen as it represents the same route Resilient Lady will sail on her Mermaiden Voyage, leaving her homeport, Melbourne's Station Pier, on December 11.
News.com.au understands Branson was in the middle of a tennis tournament on his private island — Necker — when he Facetimed cabin crew who then put him on the plane's PA system.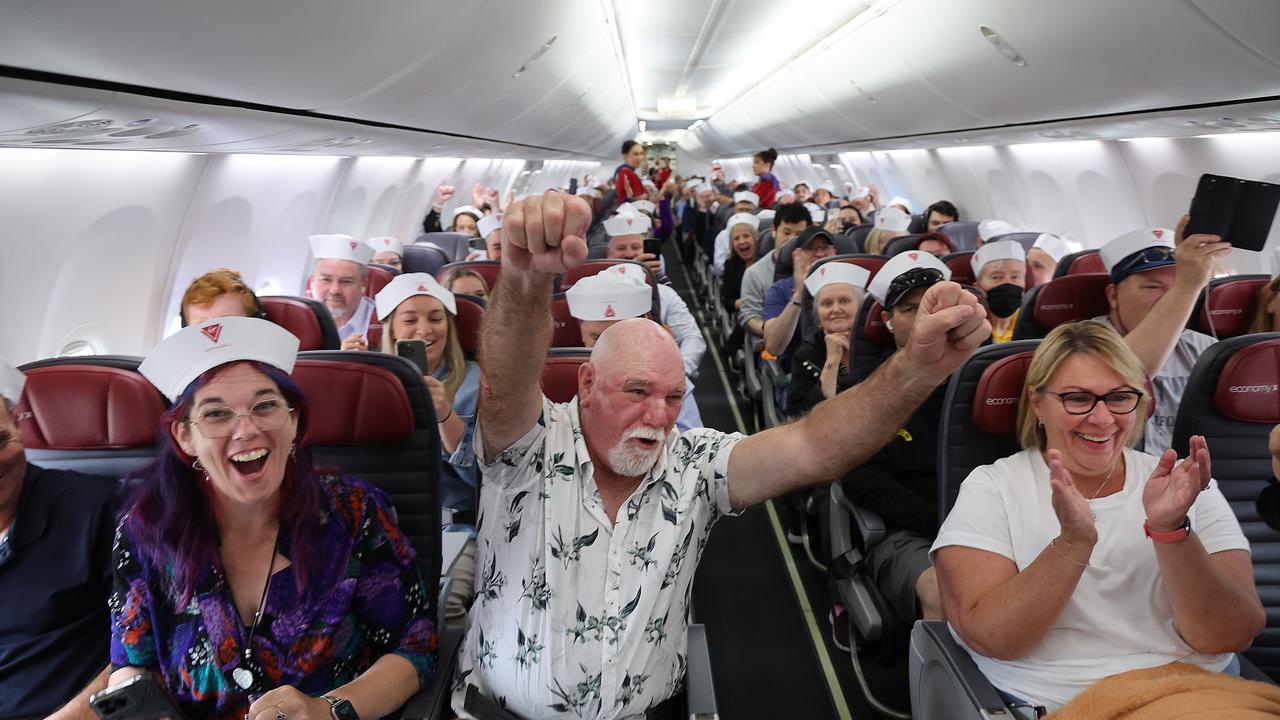 Passengers had no idea what was happening, or that he was about to gift them a free trip.
"We're counting down to Virgin Voyages' arrival Down Under – setting sail the Virgin way with adults-only itineraries across Australia and New Zealand. Sorry kids, you'll have to sit this one out," Branson told passengers.
"Well, today, you happen to be travelling on the same route as our Aussie MerMaiden Voyage. "To celebrate this milestone, I'm pleased to gift each adult on-board a free Virgin Voyages cruise the excited passengers.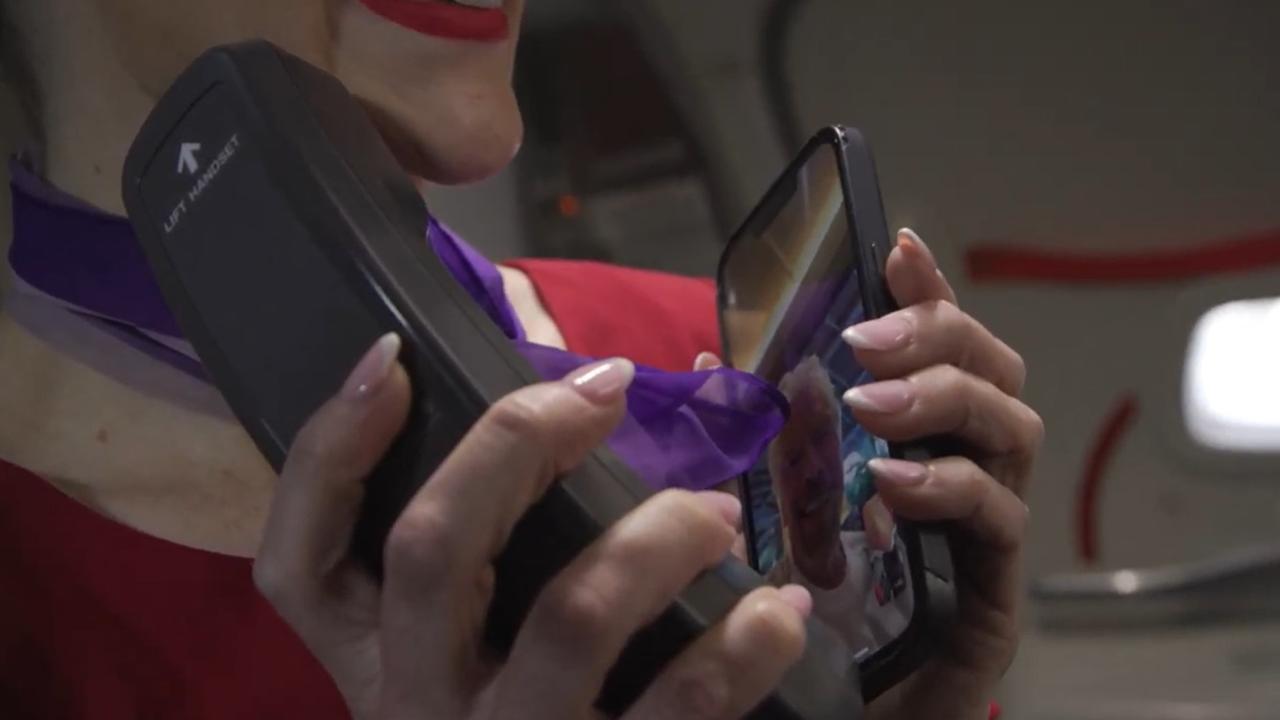 "The foundations of Virgin Australia were about keeping the air fair and we're proud to be taking that same mantra to the sea with Virgin Voyages."
He said he wanted to give Aussies the opportunity to have an "affordable, stress-free holiday" where they could take a well-earned break, have fun and get a dose of vitamin sea.
A Virgin Australia spokesperson told news.com.au the feeling on-board was "electric" with passengers left stunned.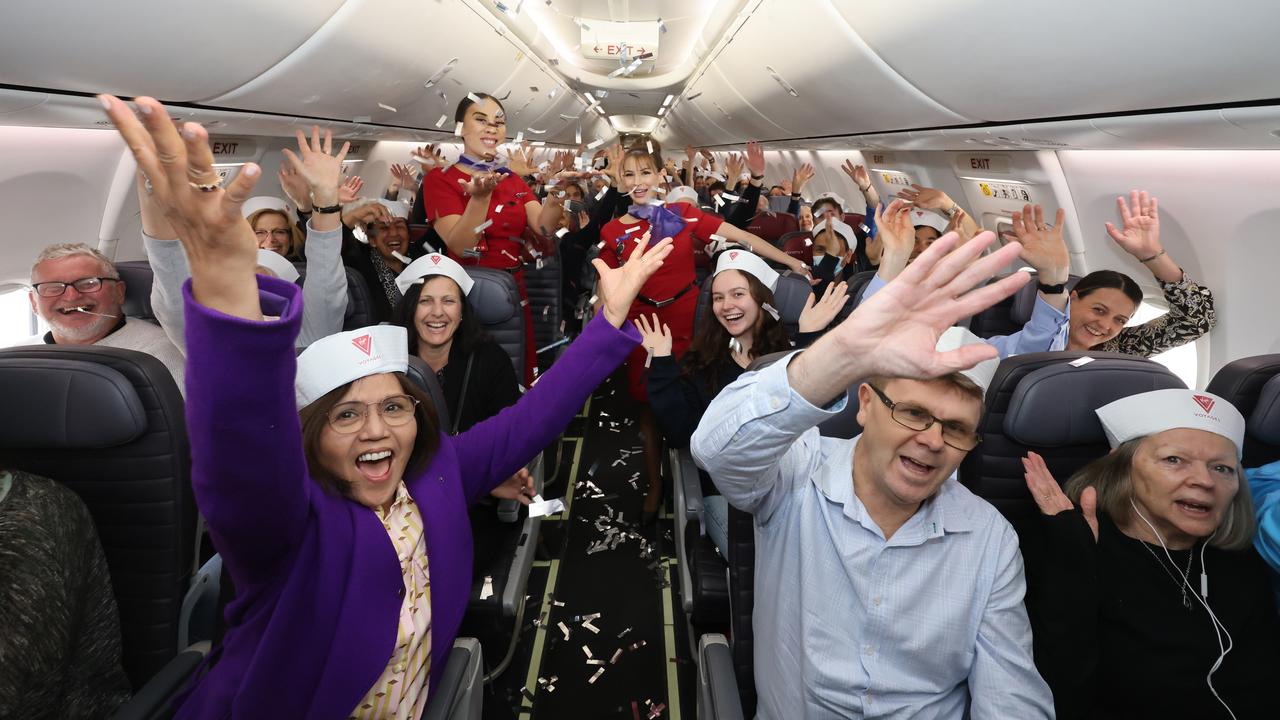 "We are committed to creating wonderful moments on-board so it was a real pleasure to see so many surprised faces when Sir Richard finally made the announcement all guests had won a free cruise," the spokesperson said.
"The operating crew were in on the secret and stayed tight-lipped until Sir Richard's call came through."
In an unexpected twist, just before the door was closed on the plane, Branson also surprised the cabin crew, ground crew, baggage handlers and pilots on the flight by gifting them a free cruise. In total he gave away more than $1 million in free holidays.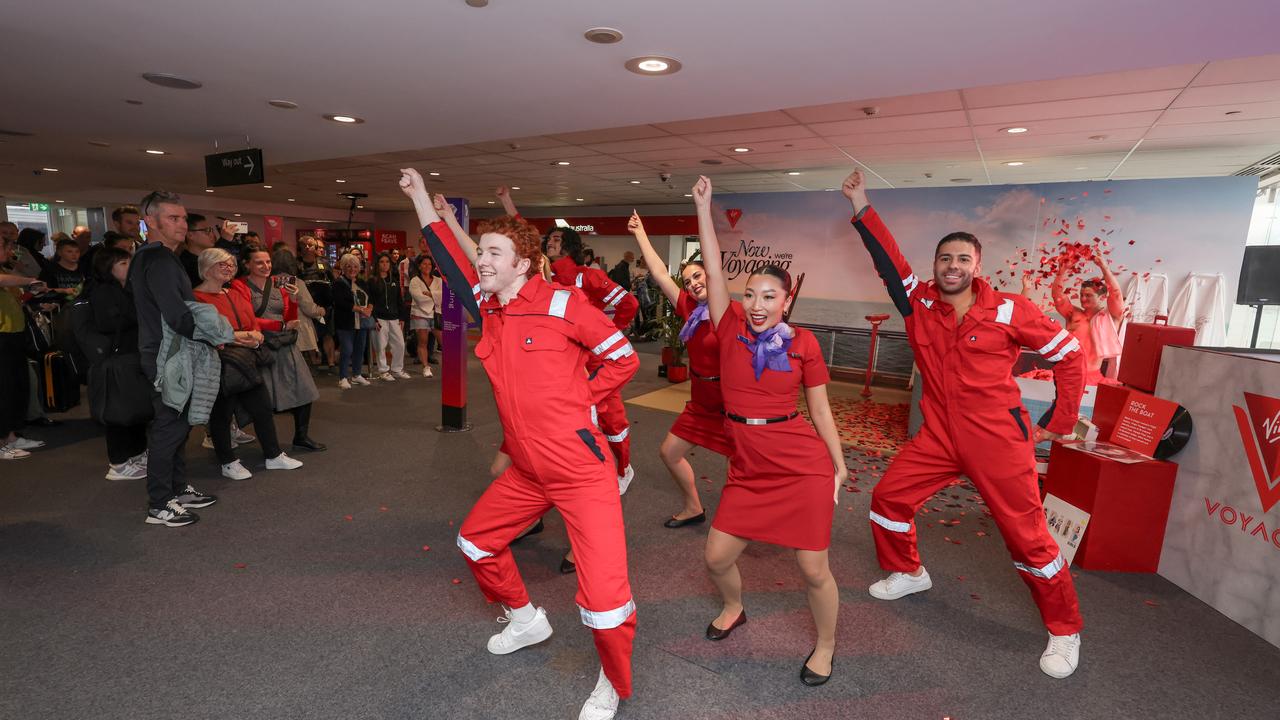 He said it was for their efforts in bringing joy to the loyal Virgin Australia passengers.
Virgin Australia chief marketing officer, Libby Minogue, also described the feeling in the gate lounge and on-board the flight as "electric".
"We are laser focused on creating wonderful experiences for our guests and today is a great example of the Virgin brands joining forces to deliver Australians new experiences in the air or at sea," she said.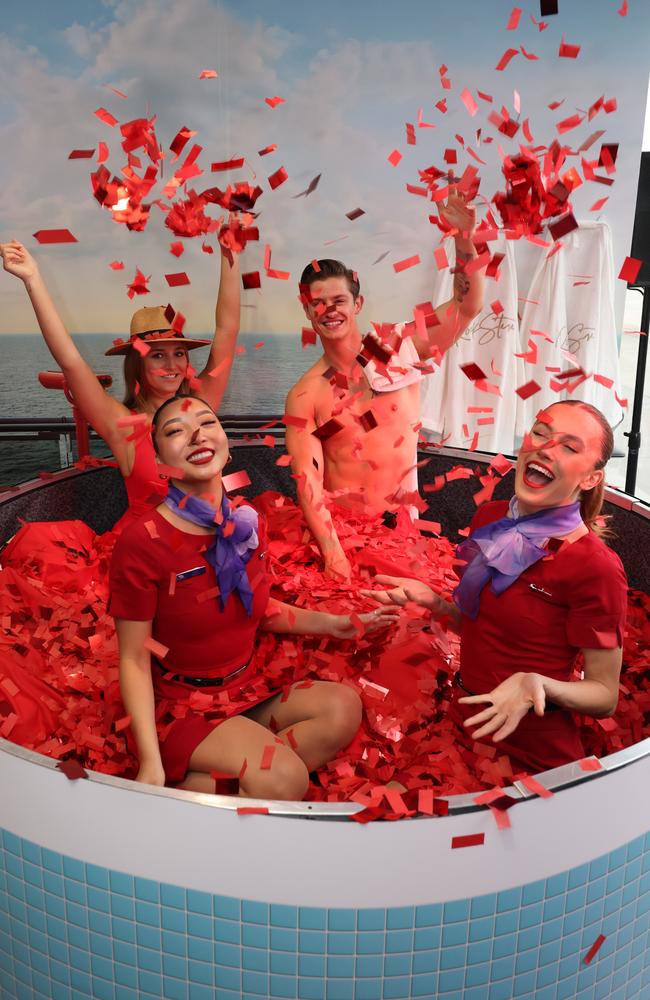 The reason kids can't go on the cruise, is because it's adults-only and not even Branson's grandkids could convince him to let them on-board .
The Resilient Lady is Virgin Voyages' newest ship that only started sailing this year.
The ship has sailed Athens, Greece and in October began its 45 day journey to Dubai, Singapore and in Sydney where he will then head to her new home port in Melbourne.
Some of the most interesting features on board include a tattoo parlour – that news.com.au is told almost always has a waitlist – and an on-demand champagne delivery service, where you can shake your phone to have champagne delivered anywhere on the ship.
More Coverage

There is also a catamaran net 14 decks above the water and the highest running track at sea at 17 decks above the water.
Virgin Voyages has also announced new pricing for the inaugural sailing season in Australia with cabins starting from $149 per person, per night and up to $1000 in inclusions.
"There will never, ever be better prices to experience our award-winning dining, entertainment and wellness on-board the luxurious Resilient Lady. This is a new way of cruising Down Under and we can't wait for Aussies to sail with us," Virgin Voyages CEO, Nirmal Saverimuttu said.
The budget carrier is offering travellers new direct flights to two of Australia's most spectacular tourist destinations for just $59.
After two weeks in the paint shop, Qantas' new A220 has a unique new look featuring Aboriginal art.
A video of this longtime pilot's emotional speech on his final flight after 32 years of flying has brought people to tears.
1800-123-5555
Travel Agent? Join Us
Get Travel Triangle in your pocket.
Get your app via sms
Honeymoon Packages
Family Packages
Holiday Packages
Holiday Deals
Luxury Holidays
Destination Guides
Holiday Themes
Plan My Holiday
Indian Destinations
International Destinations
Sikkim - Gangtok - Darjeeling
South Africa
Seasonal Packages
Water Activities
₹30,250/- ₹32,880/-
Tour Packages
International
Russia 7 Days Tour
Idyllic Russia Tour Package From India Rated 4.2 /5 (based on 54 reviews) Idyllic Russia Tour Package From India
Idyllic Russia Tour Package From India 7 Days & 6 Nights
Welcome to Russia
Savior on Spilled Blood. Orthodox church. St. Petersburg
Horse drawn carriages on the Palace Square in St. Petersburg
Mt Fuji in Russia
Perterg of, St-Petersburg.
Hotel included in package:
Moscow (3D)
St Petersburg (4D)
Starting from:
Per Person on twin sharing
Price For The Month
TravelTriangle has served 3000 + travelers for Russia
Encompassing idyllic sceneries, artistic riches, historic monuments, throbbing nightlife, and amazing train rides; let your next excursion cover all these highlights for a unique experience. Choose from our range of Russia tour packages , and see yourself how every significant attraction unveils the treasure trove of rich history before you. For, as you explore the thriving city of St. Petersburg and wander around Moscow, our escorted tours offer you a chance to delve deeper into the turbulent past of the nation, beguiling you to discover Russia at its best.
Hop on a fascinating excursion of the largest country in the world, Russia, especially, if you are a cultural vulture. 7 days Russia holiday packages will get you and, get to conquer new horizons for some inspiration and contentment. Replete with glittering palaces, ancient-walled fortresses, and museums, this country has a lot to offer to every tourist, whether you are a history enthusiast or a creative fanatic. As you get on a metro tour of the railway stations, and stroll through the old streets of Arbat while exploring the Moscow city, we bet, the views of architectural masterpieces are certainly going to leave you spellbound! Go ahead, and pay a visit to the sprawling Kremlin Territory, and let its many attractions, including the phenomenal Cathedral Square, the Tsar Cannon, and the Tsar Bell along with the alluring Kremlin Garden indulge you in opulence, like never before! What's more? As perusal of the itinerary of our Russia 7 days package , your next excursion to St. Petersburg, also known as the cultural heart of Russia, offers you a chance to trace the rich history and sheer grandeur of the place, leaving you amazed, for sure! Besides that, comprising an opportunity to marvel at attractions, like: the Peter and Paul Fortress, the Hermitage Museum and its elegant Winter Palace along with the world-famous Peterhof Palace- a series of gardens and palaces, our tour package has got covered every traveller, like you.
Traverse through the pathways of Moscow and prepare to bedazzled by what the capital city has to offer. Moreover, the capital leaves no stone unturned when it comes to putting on platter a feast for shopaholics. Enjoy a walk through the Arbat Street that provides a plethora of things to witness. Search for Russia and the image that makes the most of all searches will be of Kremlin territory. Its bewitching domes are alluring enough but witnessing it up close will be something surreal. To get a taste of history you will also get to visit the Hermitage Museum and the Peterhof.
So, if exploring such astounding attractions representing history, art, and culture intrigue you to escape the monotonous bustling city life; then book our Russia tour package from India , now! And, gear up for a voyage that satiates the inherent explorer in you.
Enjoy the city tour of Moscow
Stroll through the old Arbat Street & enjoy the sightseeing
Explore the magnificent Kremlin Territory
Visit the Hermitage Museum & the Peter & Paul Fortress
Marvel at the majesty of the Peterhof Palace
Moscow: Arrival and Leisure time
Other Benefits (On Arrival)
Embark on a remarkable journey
As you arrive in Moscow, get ready to be mesmerized by the artistic views of the city. Check-in to a hotel of the city. Choose to either enjoy a relaxing sleep till midnight or explore the surroundings at leisure before hitting the bed. Make the most of this Russia tour package as you desire.
Moscow: Moscow City tour
Stroll through the marvelous architectures
Delve into a delicious breakfast, and let us accompany you for a city tour. Enjoy the sightseeing of some major attractions, such as Red Square, Alexander Garden, Bolshoi Theatre, Armory Chamber, and more. Post that, a small tour of the railways stations of the city by metro train has also been scheduled in the itinerary of our Russia 7 days package. Marvel at the spectacular artwork and statues of the stations. And then, gear up to stroll through the streets of Old Arbat where you can enjoy the view of its architectural masterpieces. After such an amazing tour, it's time to get back to your hotel, and settle down for the night.
Moscow: Tour of the Kremlin Territory
Kremlin Territory
Cathedral Square
Marvel at the ancient sites
Wake up to a mouth-watering breakfast, and let us take you off to the Kremlin Territory. Here, you can cherish the views of the striking Cathedral Square, the Tsar Cannon, and the Tsar Bell. You can also explore the charming Kremlin Garden before we leave you to enjoy some time at leisure. Stroll through the city at your pace, and then, head back to the hotel for a good night's sleep.
St. Petersburg: Move towards St. Petersburg
Move towards the cultural heart of Russia
Enjoy a fulfilling breakfast, and checkout from the Moscow hotel as mentioned in the itinerary of Russia tour package from India. Hop on a train, and move towards St. Petersburg, also known as the cultural heart of Russia. Upon arrival, get escorted to a hotel by our local representatives. Check-in there, enjoy some time exploring the enticing surroundings of the city, and then, retire for the night in your hotel room.
St. Petersburg: Enjoy city tour
Peter & Paul Fortress
Hermitage Museum
Cherish the sheer grandeur of Russia, here
After having a delicious breakfast, get ready for a full-day tour of this enticing city, called St. Petersburg. Enjoy the sightseeing of magnificent St. Peter and Paul Fortress. And then, visit the Hermitage Museum to cherish the view of its elegant Winter Palace, where you delve into the history and sheer grandeur of Russia. Post that, as per the Russia 7 days package, you are free to wander around the city at your pace. Then, come back to the hotel for a sound sleep.
St. Petersburg: Visit the Peterhof Palace
Explore a series of palaces and gardens
Indulge in a nutritious breakfast, and let us take you on a tour of a majestic place that will certainly blow your mind. As per the given Russia tour package, visit the striking attraction, called the Peterhof Palace. A series of gardens and palaces, this world-famous site is a must-visit on a Russia tour. Post a visit to this magnificent attraction, go ahead, and enjoy the rest of the day at leisure. And then, return to your comfy hotel room for an overnight stay.
Departure time
Take leave of the fascinating environs
Enjoy a delicious breakfast, and let us help you reach the airport on time. As mentioned in the Russia 7 days package, board a flight back home, and conclude this trip of Russia.
Note: Our agents will provide you these or similar hotels depending on availability
Maxima zarya hotel
4/9 Gostinichnaya Street Building 9 Moscow - 127106, Russia
St petersburg
Polo regatta hotel
1, Morskoy Slavy Square St Petersburg - 199106, Russia
Accommodation at hotels
Breakfasts in hotels
All transfers according to the program by private vehicle
All excursions with English-speaking guide
Entrance fees to museums
Visa Support Letter
Portages in hotels, airports & train stations
Registration fee SPB (about 3 usd/pax)
Tickets to Sapsan: Economy Class, the basic price 75 USD / pax/ one way
Your Preferences
Where do you want to go?
FAQs for Russia
What is the ideal time to travel to russia.
You may choose to get on a trip to Russia in between the months of May and September, when the weather is pleasant. Though, it is advised to carry a waterproof jacket and umbrella along, as the region often experiences unpredictable showers.
How can one travel in & around Moscow & St. Petersburg?
Besides availing local taxi services, you can choose to travel via metro. Though, opting for a metro may not be quite a comfortable experience, it's definitely a cheap and time-consuming means of transport.
Can one visit the tourist attractions of Russia during public holidays?
Yes. The best thing about a Russia tour is that all the tourist attractions of the country remain open till late evening, even during public holidays. Hence, you can have a fun-filled day irrespective of the time when you visit here.
Can one drink tap water in Russia?
Though, tap water can be used for brushing your teeth, it is always advised to use bottled or boiled water. And, be safe.
How safe is it to travel to Russia?
Russia is generally a safe country to visit to, especially, if you are travelling to Moscow and St. Petersburg. Though, taking a safety precaution is always advised.
650+ Verified Agents
Traveltriangle Verified
Stringent Quality Control
How It Works
Personalise this package.
Make changes as per your travel plan & submit the request.
Get Multiple Quotes
Connect with top 3 agents, compare quotes & customize further.
Book The Best Deal
Pay in easy installments & get ready to enjoy your holiday.
3 Russia Tour Packages
Read on to find out why our customers love us!
Priyanka's 7 days trip to Russia
Priyanka Tomar
Neha's 8 days trip to Russia
Neha Malhotra
New Delhi, India
Maddy's 7 days trip to Russia
Maddy Udaiwal
Jaipur, India
Similar Packages
Russia tour package for 5 nights 6 days.
Russia Tour Package For 8 Nights And 9 Days
Moscow package from delhi.
St Petersburg (3D)
Moscow (4D)
Moscow Package From Mumbai
Varanasi package from chennai.
Varanasi (3D)
Allahabad (2D)
Faizabad (1D)
Bodh Gaya (1D)
Rann Of Kutch Package From Pune
Dwarka (2D)
Veraval (1D)
Sasan Gir (1D)
Ahmedabad (2D)
Dwarka Somnath Gir Diu Tour Package From Ahmedabad
Lakshadweep Sports Tour Package
Lakshadweep Tour Package In July
Kutch tour package from delhi.
Ahmedabad (1D)
Jamnagar (1D)
Dwarka (1D)
Sasan Gir (3D)
Bhavnagar (2D)
Gangtok Trip Plan For 7 Days
Gangtok (4D)
Lachen (1D)
Lachung (2D)
Darjeeling Trip Plan For 6 Days
Gangtok (3D)
Darjeeling (3D)
Russia Packages By City
Category Pages
Couple Tour Packages
Family Tour Packages
India Tour Packages
International Tour Packages
International Honeymoon Packages
Domestic Tour Packages
Kerala Tour Packages
Himachal Tour Packages
Uttarakhand Tour Packages
Goa Tour Packages
Andaman Tour Packages
Sikkim Tour Packages
Europe Tour Packages
Thailand Tour Packages
Maldives Tour Packages
Mauritius Tour Packages
Bali Tour Packages
Dubai Tour Packages
Duration wise Packages
2 Days Tour Packages
3 Days Tour Packages
4 Days Tour Packages
5 Days Tour Packages
7 Days Tour Packages
10 Days Tour Packages
Theme based Packages
Luxury Tour Packages
Budget Tour Packages
Cruise Tour Packages
Adventure Tour Packages
Beach Tour Packages
Wildlife Tour Packages
We are hiring!
Testimonial
Travelogues
Terms and Conditions
Privacy Policy
Corporate Office:
Holiday Triangle Travel Private Limited
Address: Plot No - 52 , 3rd Floor,
Batra House , Sector 32,
Gurugram - 122001 ,Haryana
Landline: 1800 123 5555
Connect with us on :
All rights reserved © 2023